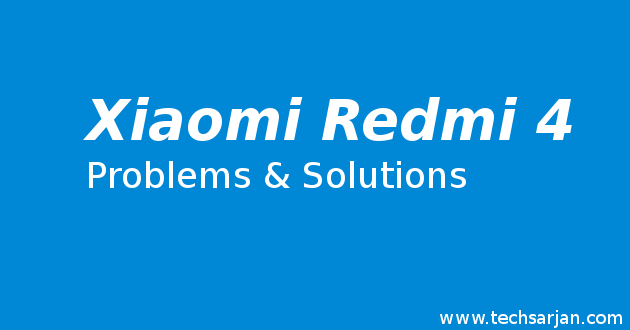 Hello MIUIers, hope you are doing well. Today we talk about Xiaomi's latest budget segment mobile Redmi 4. Redmi 4 mobile comes in the pocket-friendly budget. You can enjoy all flagship features in this phone like a high capacity battery ( 4100mAh battery), 13MP back camera, 5-inch display with a powerful Snapdragon 435 octa-core processor. In this Article, we talk about various issues of Redmi 4 which you face during phone usages like battery problem, phone heat problem, contact problem, mobile data problem, camera problem, GPS problem, bootloader unlock issue, bootloader permission issues, hardware problem, MIUI problems (MIUI 7 / MIUI 8), voice problem, Google assistant issue, font issue, hang problem, lag issues etc.
Most of the problems are software related, you can easily handle via following some easy steps. So here we discuss every minor problem of Redmi 4. No matter which is hardware problem or software problem. Here we try to answer your all queries regarding Redmi 4 mobile.
Redmi 4 Heating Issue Solution:
This is a common problem of every Redmi 4 users. Users always complain about heat problem in Xiaomi devices. As you know Xiaomi Redmi 4 is a budget device so you can assume that hardware is not good. don't be panic. Xiaomi always gives a better build quality in this price range in comparison of other Mobile OEMs. Here you can do something which is helpful to reduce heating issue in your favorite Redmi 4. Please follow below task to solve the heating issue in your Xiaomi mobile.
Don't use your phone during charging.
Go to Security. choose Battery icon option. Here system analysis the details and shows that app which is responsible for heating.
Go to that app and force close app.
Make sure GPS is off.
Check background apps. Go to permission manager and give appropriate permission to the desired app.
Don't play heavy games in Redmi 4.
After following above simple steps you can reduce your heating issue in Redmi 4.
Redmi 4 Battery Drain, No Charge Solution:
Redmi 4 have an awesome battery which is more powerful than other mobiles. However, if you face not charging problem then you can solve this issue easily. Normally this type problem faced by the users when the phone is new. In short, once you out of the box your Redmi 4 than might be your phone not charge with your default data cable which comes with phone box. So don't be panic just use another data cable for the first day. If still not charge then change the charger.
If your phone battery doesn't charge after the particular percentage like no charge after 60% or 70%. then don't worry. this is not a problem this is battery threshold. which is helping to prevent battery damage due to overcharge. You can solve this issue via decreasing battery power to 0%, once phone shut down due to power then charge your phone in switch off condition. When phone crosses 30% than Power ON your phone. Now battery threshold solved.
If you face fast battery drain in your Remi 4 then we can help you in this matter. The first thing which we want to share with you that Redmi 4 runs on MIUI 8 which is customized screen on Android OS. MIUI is too heavy because of various customizations. So in short, we can say MIUI is hungry for the resource as well as power. So normal power reduce is common. If you face unexcepted battery drain than you can try tricks to recovery battery drain problem easily.
If your battery drain problem occurs due to system update (MIUI update) then you need to downgrade your system or wait for the next update. Once MIUI team release the update then your battery problem easily solved via updating your Redmi 4 through MIUI updater app which is preinstalled in your Redmi 4.
If you don't update your Redmi 4but still face battery drain problem then check the last app which you installed in your mobile may be that app consumes more resource of your Redmi 4. You can go to security app and check battery health. Here you can also check which app consume more power. Here you get a correct idea which activity/app responsible for your battery drain.
give the correct permission of that particular app and remove the app from auto start section.
Make sure you turned off GPS when not used by you.
Don't play heavy games.
Don't use your phone during charging.
After following above simple steps you can easily solve the battery problem. Here you need to maintain battery permissions and system permissions through the help of Security app which is preinstalled in MIUI. Always scan you mobile with antivirus. Antivirus also come preinstalled in your Redmi 4 mobile.
Redmi 4 WhatsApp contact & Sim Card Contacts problem Solution:
By default, Redmi 4 don't show SIM card contacts in his phonebook.  So if you want to use SIM card mobile number which is saved in SIM then follow below steps:
Go to Settings -> System Apps -> Contacts -> Import/Export Contacts -> Import from SIM card 1/2.
After following above steps your SIM cards contacts display in your phone book.
If your contacts not showing in WhatsApp then might be you restrict WhatsApp to access your phonebook contacts. Now here only two way. First, easy way you need to reinstall WhatsApp else go to security app and give contacts read permission to WhatsApp once you give permission to WhatsApp force stop the App and again launch.
Redmi 4 Gallery Problem:
If you face gallery permission issue on your redmi 4 when you launch Gallery. then you need to do something in permissions for more details you need to follow below article instructions
Click here to Solve Gallery permission issue on Redmi 4 
Bootloader unlock issue (Stuck at 50%):
If you want to unlock your bootloader then you need to take permission from Xiaomi. Once you receive the permission then you can do it. But still you unable to unlock your bootloader then you need to wait for some time. Please wait for more approx 7 days then try. Make sure you use same Mi account on both (your mobile and Mi unlock tool).
Root Access process in Redmi 4:
Soon we share a detailed guide where you can easily learn how to root Redmi 4 in an easy way.
MIUI 9 For Redmi 4:
As of now, MIUI 9 not release for Redmi 4. First MIUI team release for Mi flagships like Mi 6, Mi 5 then may be Redmi 4. till date please wait.
Mic Problem in Redmi 4:
If you face trouble during voice call like your voice don't hear on next end. then might be you think that your Redmi 4 Mic defect. But wait Mic is OK. this is software bug which is easily solved by following some easy steps. Follow below article instructions to solve mix issue in Redmi 4
Click to Solve Mic Issue in redmi 4
Redmi 4 VoLTE problem Solution:
Yes, We know VoLTE is compulsory at this time. But if you face any problem during VoLTE call or you van able to make VoLTE calls through Redmi 4. Redmi 4 is VoLTE supported device. you need to perform some steps to enable VoLTE services on Redmi 4
Click here to VoLTE calling Problem
Redmi 4 Mobile Data Connection Problem:
If you face any problem when you want to connect the Internet through your mobile data. In this case APN error, chances are high. in many cases, users don't have APN settings and they want to connect net without APN, which is not possible. So you need to do with correct APN settings. Some settings also needed to follow below article instructions to solve your mobile data connection problem.
Click here to Solve Mobile Data Connection Problem in Redmi 4 mobile
Redmi 4 Lagging Issue Solution:
If you are facing lag problem in your Redmi 4 then you nee to do some steps on your phone's setting. Please follow below article to solve the lag issue in Redmi 4.
Click here to Solve lag issue in Redmi 4 mobile
SAR Value of Redmi 4
Soon we share SAR value of Redmi 4.
Is Redmi 4 have a fingerprint sensor?
yes
If you still face any problem then please share within comments so we can help.