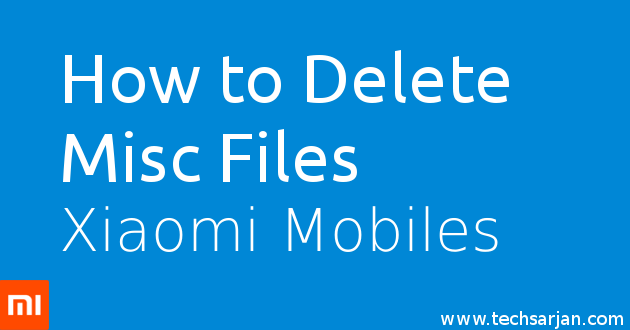 Hello MIUiers, hope you are doing well. Today we talk about Misc files which stored in our Xiaomi phone's storage. If you are thinking to delete these files there you are at right palace. Here we share easy steps through that you can easily rid of Misc data which occupied your most of the space in storage. A normal user always hates these Misc data because it consumes more space (memory) without any information. We can say these are system files which help MIUI to perform better on your hardware. If you are thinking that you won't delete these files then you are wrong we can delete these Misc files in an easy way. Which we share in this article.
Normally users always complain that their phone has 2GB  Misc data, some say unwanted 4GB Misc data. This is not necessary that this Misc problem comes in particular Xiaomi mobiles. You can face this Misc problem in Xiaomi devices no matter which is Redmi 1s, Redmi 2 / Prime, Redmi 3s / Prime, Redmi 4A, Redmi 4, Redmi Note 4G, Redmi Note 3, Redmi Note 3, Mi3, Mi 4, Mi 5, Mi 6, Mi pad etc. Every device which runs on MIUI OS then chances are high for more Misc data.
Is Misc data important for Xiaomi Phone?
This question definitely comes in your mind when you are thinking to delete these Misc files from your phone. Because generally, you don't have the option to delete these files. So maybe you think theses are system files. Somewhere you are right, These files help MIUI to run and perform better on your Xiaomi hardware. But don't worry if you delete these files, It's won't effect on system performance.
Steps to Delete Misc file from Storage in Xiaomi Mobiles:
You can delete these Misc files via following various ways. Here we are sharing all possible ways which are helpful to delete your Misc data on your Xiaomi phone.
First Way: Go to Security App. And choose cleaner option now here you tap on deep clean option. Through the deep clean option, you can reduce the size of Misc files.
Second Way: This is too easy. one solution for all problem Hard Reset. You can hard reset your mobile. But before doing a hard reset first take your data backup and then hard reset your mobile. If you don't know how to take backup and restore data in Xiaomi phones then this article surely helpful for you. Click here to Know MIUI backup & restore process.
Third Way: In this way, You can Reset your phone via Mi Recovery. For using Mi Recovery you need to unlock your phone bootloader. For phone bootloader unlock Guide – Click here to know bootloader unlocking process step by step.
So, you can easily remove/delete Misc data from your phone storage via following some easy steps. After Misc data delete, you don't face any lagging issue. You have more space in your phone which consumed by Misc data. Some system files are stored in Misc section. These files automatically come again when your phone start working. But other apps files which are not important are deleted permanently.
Above described methods working on all Xiaomi mobiles no matter which is Redmi series or Mi series. All MIUI versions have Misc files no matter which is MIUI 7/MIUI 8/MIUI 9. Just delete Misc files and enjoy Xiaomi services because
Always believe something wonderful is about to happen.