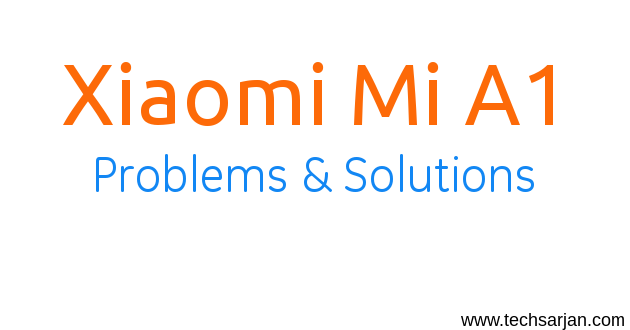 Hello MIUIers, Sorry this time Hello Stock Android users. Yeah, We are talking about Xiaomi' latest smartphone which is run on stock Android the one n only Mi A1. Here we talk about Basic problems and solutions which are faced by Mi A1 users.  These problems might be related to Mi A1 functions, hardware issues, lagging issues, speaker issues, network issues, data issues, call issues, touch issues etc.  So here we talk about all problem which is generally faced by Mi A1 users.
As you know Xiaomi's new Mi A1 phone is purely based on Stock Android So if you are thinking why Mi Cloud is not available on Mi A1 then please clear one thing in your mind All Mi service which is provided by Xiaomi is not working in Mi A1 because of Stock Android. So you can't enjoy any Mi service like Mi Message, Mi Cloud, Mi File Share, Mi drop, Mi Album hide, File Encryption, call recording, Mi contacts, Mi Calendar etc. If you want to use all these MIUI functions then you need to flash MIUI ROM on your Mi A1 mobile. For this purpose this guide surely helpful for you.
Now come to the topic here we discuss all the basic problems of Mi A1 which you faced in day to day usage. like battery draining problem, heating problem, speaker problem, mic problem here we give all possible solution for you in an easy way.
Xiaomi Mi A1 Problems & Solutions:
Q. Mi A1 battery quick drain problem Solution?
Ans. If you are facing battery drain means your Mi A1 battery quickly down even after a full charge then please check background activities may be some apps are running on the background which consumes more power.
Q. Mi A1 not charging, What should I do?
Ans. Make sure your charging port working correctly. Please change the USB cable and try again if still not working then please change the Charger if still not working then please visit the nearest service center and change charge and cable.
Q. How to set up auto record calls in Mi A1?
Ans. Sorry to say you, but this is stock android you can't do that via stock functions. You need to use a third party app to record your calls. Without third party app, you won't able to do it.
Q. How to take a screenshot in Mi A1 Mobile?
Ans. Again sorry for that. Stock android doesn't have this feature you again need a third party app for the screenshot. Go to play store and download screenshot app and use it.
OR you can use via press low volume key + on/off button
Q. How to control data usages in Mi A1 Mobile?
Ans. Yes, you can control data services on Mi A1 mobile. Go to settings and search for Data management function and use it according to your need. like you can control custom data limit on any app. Even you can also disable data for the particular app.
Q.Mobile Internet not working in Mi A1. What should I do?
Ans. Please ensure that you have a working data plan. now still not working then please set the default data sim which you want to use. if still not working then go to SIM settings and search for APN settings. Now reset APN settings and reboot your mobile.
Q. When I get the new update in Mi A1?
Ans. Don't worry about updates. Google promises us to give all latest updates for next few years.
Q. How to Remove Downloading female English voice notification in Mi A1?
Ans. You can remove via two ways, First, connect your Mi A1 with any WiFi and mobile automatically download these files and everything works correctly. The second way, go to settings then keyboard settings then look any voice option here choose options and enable mobile data.
Q. Is bootloader locked of new Mi A1?
Ans. Yes, Mi A1 Come with the locked bootloader. But this time you won't need to ask for unlocking your device from Xiaomi.
Q. How to clear cache data in MI A1?
Ans. Mi A1, don't have inbuilt cleaner app so please go to download and install any third party app and use as a clean master app for clearing cache data and app data.
Q. How to Scan Mi A1 to remove the virus?
Ans. Sorry to say you, but in Stock Android, you won't have Security app. Go to play store and download any Antivirus and scan your mobile freely.
We cover all basic problems which users face in daily usages. If you have any other problem with your Mi A1 then please tell us via Comments section. we will provide the best solution for you.