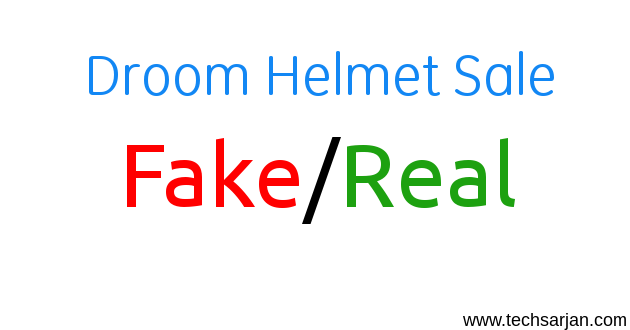 Hello Users, Today we talk about Droom helmet sale which is most popular at this time in India. Because Droom offering a good quality helmet at just Rs. 19 only. So everyone wants this helmet. Abusively everyone because of Rs. 19 is a too small amount where we talk about a good helmet. But the Question is Droom Helmet sale is a fake sale or real sale because many people want to buy but no one can get. So might be people think about Droom sale authenticity. So today here we talk about all possible cases, so we can determine Droom sale is fake or not.
What is  Droom Helmet Sale:
According to Droom, A Marketplace To Buy Affordable Automobiles From Verified Sellers, They are offering a discount on Helmets. So users must be registered on their site and on particular date & time they start sale and you need to take participate on that sale, in order to grab the helmet. You need to enter a promo code GETHELMET during checkout to take the discount on this deal.
Droom Helmet Sale Fake or Real:
Yes, you are thinking right. Maybe this sale is fake or may be real. You know every company wants to be famous in public some choose genuine way some choose unethical/bad ways. So here we say Droom following unethical way to promote them self. Why I am saying this because I dought on their sale system. Because they just give a Banner on this page. the page URL is
http://droom.in/get-set-helmet
Once you open this page a registration page appears if you open before sale date or if you open on sale date then you just see a banner which says 11:00 AM sale is going to start. Everyone knows there is limited stock of these Rs. 19 helmets. But Still don't know why Droom web developers want. Even there is No timer Clock which normally shows during flash sales like on Amazon or Mi India. Droom webpage banner is the only banner there is no clickable link on that page. Even a normal user can easily confuse that page show please being with us sale starts at 11:00 AM but there is no link to buy User face reactions change time to time. He thinks once 11:00 AM on my clock then maybe a pop appear to buy or autorun an ajax query and some options appear on the screen to buy the helmet but No. Nothing happens on the screen. You will continuously try to grab the deal but most of the time their server can't able to handle the traffic. Then they just change the banner says the sale is closed next sale will appear soon.  So you can say this Rs. 19 helmet sale is just a marketing stunt. that's it nothing more. So don't waste your time. Go and do something useful. You can see one more example Normally you see on plugin stores many developers offer a smart buy plugin which is capable to buy a product in flash sale. But in Droom case no one offering helmet quick why plugin. you already know Why. One Answer, Sale is Fake, Don't waste your time.
Is Droom helmet sale proofs are fake which shows on the Internet:
Yes, I know you also thinking about this. because you already have seen many Droom helmet order proofs on various coupon websites. So obviously you ask this question. Here I want to say that Droom not is totally fake. They offering Helmet even in free but in the early stage. But now they just making fools to get traffic and popularity among peoples to make brand power. But who knows they are making disappointing fans nothing more. If you have time then go for it else please delete the event which you save in your calendar to take participate in this sale.

Droom Helmet sale is Fake. Don't waste your time.
Disclaimer: The views expressed here are solely those of the author in his private capacity and do not in any way represent the views of the Techsarjan team OR G Technologies.