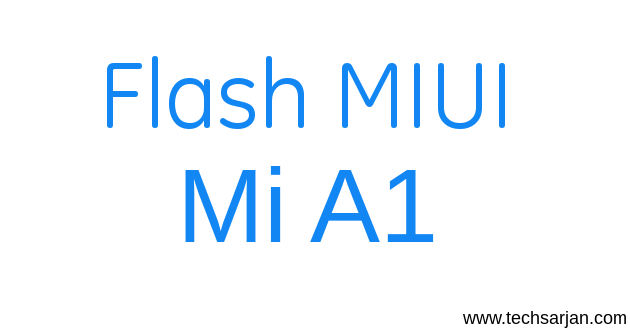 Hello MIUIers, hope you are doing well. Today we talk about MIUI flashing on Mi A1 which is the latest device of Xiaomi released in India. If you impressed with A1 camera and price tag then may be you buy this phone. But you know Stock Android sucks in many cases and if you want to Install MIUI 8/ MIUI 9 in your Xiaomi Mi A1 device then you can easily do it.  So f you are thinking to flash MIUI on A1 then you are at right place.
Is Xiaomi Mi A1 bootloader locked?
Yes, this is the question which comes to our mind when we are thinking to flash custom ROMs on our devices. So, yes. Mi A1 also comes with a locked bootloader. So you need to unlock your Mi A1 bootloader first before doing anything in flashing work. Now you already know this device comes with Stock Android so there is no need to take permission from MIUI team to unlock this device.
How to Unlock Mi A1 Bootloader? – Detailed Guide with Step by Step:
Here we tell you to step by step guide for unlocking Mi A1 easy way without any damage. First, make sure your computer/laptop have preinstalled ADB and Fastboot drivers. If you still now installed then please Download and install latest ADB & Fastboot drivers from here. Once you download these drivers then please install these drivers in your system.
Now boot your Mi A1 in fastboot mode via pressing  Volume down+Power button. Now go to the directory where you installed Fastboot drivers now Open CMD terminal via right click and choosing run as Administrator. type fastboot devices , Once your device show here then type fastboot oem unlock Now you see a success message appears on screen which says bootloader unlocked. Soon we share detailed guide of bootloader unlock for Mi A1.
MIUI Install Instructions For Mi A1:
Once you unlock your Mi A1 then you can flash any custom ROM on your Mi A1. Here we talk about MIUI flashing on MI A1. For MIUI flashing you need to install Mi Flash tool and MIUI ROM. Which may be Stable ROM or Developer ROM. You can choose from China ROM and Global ROM which totally depend on you.
So First you need to install Mi Flash tool from here.
Now you need to Download MIUI ROM for your device from here.
If you still confuse what is Developer ROM Stable ROM for Mi A1. OR confuse between China ROM and Global ROM for Mi A1. Then please read this Article to understand various MIUI ROMs for your MI A1.
Once you download MIUI 8/9 ROM for Mi A1 which is freely available on MIUI website. Now you need to launch Mi Flash tool on your computer. make sure you download fastboot edition of MIUI 8/9 ROM for your Mi A1. Now boot your device into fastboot mode and connect with your system. now click on the refresh button on Mi flash tool. Soon your device detected on Mi flash tool. Now give the Extracted ROM file path and click on the flash button. Soon you a success message on your screen.
Congrats, now your Mi A1 is running on MIUI OS. It may be MIUI 9 or MIUI 8, totally depends on you what you want.
Now enjoy MIUI features in Mi A1 like Mi cloud, Mi Message, Mi Album, File hide function, second space, Mi Dual App function, Call recording, Guest Mode, Screen recorder, Mi servimuchand many more.
Here one thing which is disappointed MIUI fans is Android version. As we all know how Xiaomi update circle works God knows when we get Nougat but is Stock Android Google promise to give all major updates to Mi A1. So if you are stock Android lover then please don't go for MIUI.