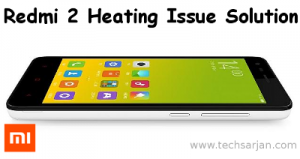 Redmi 2 come with powerful Snapdragon 410 64-bit processor. Its have 1 GB  RAM & 8 GB internal storage. Redmi 2 Prime this is a updated version of Redmi 2. Only RAM and storage doubled with previous one. Means Redmi 2 Prime have 2 GB RAM and 16 GB internal storage. Rest of the all specification are same. Redmi 2 cover all users need in a pocket friendly budget. All things is  good but some times users face Redmi 2 heating issue in their mobiles.
Here we talking about Redmi 2 heating issue. If your phone heat small then don't worry this is common things. But your Redmi 2 / Prime heat so much & battery drain also fast then you must need to do something. You can easily guess if your Redmi 2 battery is draining in just 4-5 hours. Then something wrong in your Xiaomi Redmi 2.
Reason of Heating Issue in Redmi 2 / Prime:
There are several reasons  of heat in our smartphones. In Xiaomi mobile case, Mainly MIUI update. MIUI is a operating system which is developed by Xiaomi Powered by Android. If we are using Redmi 2 as it is, means not update  with new MIUI 7 then definitely you face a heating issue. If you are using your Xiaomi mobile while charging then its also effect your phone heating. Heavy apps which is installed in your Redmi 2 also play a major role in your Redmi 2 heating.  Continuous using of browser it also a major issue to create a Heating problem in your Xiaomi mobile.  Some of the cases a media fire bug exists in new MIUI which is also responsible for Redmi 2 heating isssue.
Solution of Redmi 2 Heating Issue :
Yes, Don't take tension because of your Mi mobile. MIUI Developers always working for us. They gives frequent updates for our devices.  If you update your device with currently available stable ROM then your 70% problem solved. So first update your phone.
Update procedure in Redmi 2 / Prime
Go to Updater App. After launching Updater App, A message display on screen update available. Click on Install update. After some time update installed and your mi phone restart and update configure done. All things done automatically  you don't need to do something. Now MIUI 8 rolling out you can download from below link.
Once you update your Redmi 2 , then your all problems are solved . Just care of some points like
Don't use your Redmi mobile during Charging.
Don't install heavy apps which is RAM eater.
Don't install unwanted apps. (MIUI gives all services inbuilt to know more Click here)
Disable unused function like WIFI, Bluetooth. Hotspot
Set a once auto restart function in a week.
Redmi 2 Battery Draining Issue Solution :
If your Redmi 2 battery draining very fast then something wrong with your MIUI ROM. Its might be happen because of your recent update. So if battery draining issue occur after a MIUI update then go to Recovery mode. and delete Wipe Cache Memory. and See your Problem Solved.
If your Xiaomi mobile battery draining issue still present. Then
Go to security App.
Tap on battery icon.
Tap on Battery use.
Now App name listed here. Check Which App eating battery power.
You can uninstall those app who eating more power of your device. Most of cases its Media Fire App. This error resolved in the latest MIUI update.
Enjoy Xiaomi services because
Something wonderful is about to happen.
Search Content List :
Redmi 2 Heat too much
Redmi 2 Battery problem
Redmi 2 Battery power too low
Xiaomi Mobile heating issue solution
Is Redmi 2 Heat