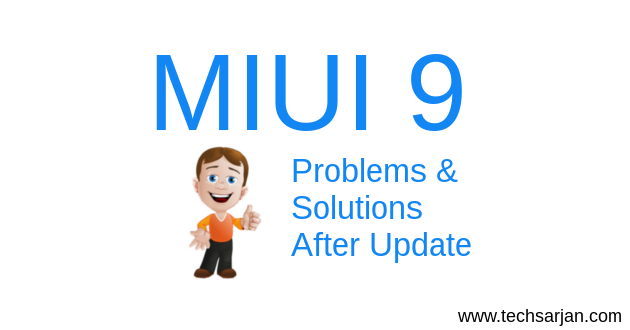 Hello MIUIers, hope you doing well and enjoying MIUI 9 in your Xiaomi mobiles. MIUI 9 is the latest update in MIUI ROM which is rolled out in developer ROMs soon you get this MIUI update in stable ROMs via OTA else you can manually update your MIUI version via download MIUI 9 Recovery ROM and update via updater app. You can also choose fastboot ROM flash method for MIUI 9 update. Today we talk about basic problems of MIUI 9 or we can say the solution of problems in MIUI 9 after update MIUI 8 to MIUI 9 like hanging, battery drain, call problem, network problem, sync problem, permission problem, Google apps problem, Google play store problem etc.
MIUI 9 is far better than MIUI 8. Here you can experience more new features like
Accelerated Startup of Apps
Brand new theme with new icons
Smart Assistant
MIUI 9 Smart App Launcher
Easy Home Screen Editing
Split Screen
and many functions updated. Click here to know all new features in MIUI 9
There are higher chances of mistakes during MIUI 9 update so users face some problems in MIUI 9. If they are trying to use MIUI 9 developer ROM then obviously they face bugs because this is developer ROM not stable. So we strongly recommended please always update stable MIUI 9 if you not an advanced user. Please take a backup before updating MIUI 9 in your Xiaomi device. Click here to detailed guide for the Backup procedure in Xiaomi MIUI phones.
Problems & Solutions After Update MIUI 9 from MIUI 8:
Please clear the cache data after updating MIUI 9. then restart your mobile and enjoy MIUI 9.
Q. My phone hangs too much after update MIUI 9?
Ans. Please go to security app and launch the cleaner app and clear all data. Restart the device.
Q. After MIUI 9 update, My sim network does not come always show emergency calls?
Ans. Please manually search operator network and select. still not searching then please check IMEI number via *#06#. Once you dialed these numbers in dialer a pop appear on screen which shows IMEI number of the device. If here IMEI not available then please follow this guide.
Q. After MIUI 9 Update, I not able to receive new calls. All calls automatically disconnect and the system says User busy. But I don't receive any notifications on my mobile. what to do?
Ans. First, check you don't block all numbers in the block list. Maybe you block all numbers in the blocklist. Also, check DND service, Maybe you enabled DND service. If all looks good then you have an issue in newly updated OS MIUI 9. You can download new recovery ROM (MIUI 9 Stable) and flash via Updater App.
Q. VoLTE not working in MIUI 9, what to do?
Ans. Make sure your device worked with VoLTE support. Go to settings and choose Sim Cards & Mobile networks. Now enable VoLTE function. Make sure your Mi4i and Redmi 2 still don't get VoLTE support on MIUI 9. If you are still facing VoLTE problem in MIUI 9 then please follow this guide instruction.
Q. Phone lagging too much after updating MIUI 9.
Ans. Please clear the cache data and then try if you still facing issue then follow this guide.
Q. I don't like MIUI 9. How to downgrade MIUI 9 to MIUI 8.
Ans. You can easily downgrade MIUI 9 to MIUI 8. You have many options for that like through updater app downgrade or through fastboot ROM flash downgrade MIUI 9 to MIUI 8. Click here to read complete downgrade guide MIUI 9 to MIUI 8.
Q. Phone switched off during MIUI 9 update. Now won't turn on.
Ans. You need to flash MIUI 9 via fastboot method. Just download MIUI 9 fastboot ROM and flash via MI Flash tool. Click here for Detailed Guide.
Q. Phone always restart at Mi Logo after MIUI 9 update (Bootloop solution MIUI 9)
Ans. Stuck at mi logo. You need to reflash MIUI 9 via fastboot flash. Just follow this guide.
Q. Split screen not available in my Xiaomi phone after MIUI 9 Update?
Ans. This is a new feature as of now only available in Mi Max 2. Soon you get in other devices. Click here for Split screen user guide.
These are common problems which may occur on any Xioami device no matter which is Redmi 1s, Redmi 2/Prime, Redmi 3s/Prime, Redmi 4, Redmi 4A, Redmi 4, Redmi Note 4G, Redmi Note 3, Redmi Note 4, Mi 3, Mi 4, Mi 5, Mi 6, Mi Max, Mi Max 2 etc.
If you are still thinking MIUI 9 is good or not for your Xiaomi mobile. then don't hesitate to go for it. You experience good speed in MIUI 9. Can I go for MIUI 9 update or still wait for some time, If you are thinking like that then please don't waste your time and update MIUI 9 on your device. Make sure you always update stable ROM.
If you face any other issue in MIUI 9 then please tell us in comments we provide a possible solution for you.