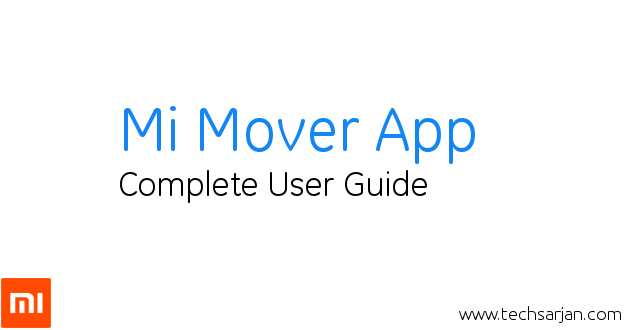 Hello MIUIers, hope you are doing well. Today we talk about data transfer facility which is provided by MIUI. As we know if we want to transfer some big files like movies, videos then we use Xender or shareit App. But what if we want to transfer all data like contacts, notes, Photos, videos, alarm settings, Calaender events etc then we need a better solution. So if you want to transfer all these details from your old Android phone to your new phone then you can use Mi Mover app which is introduced by Xiaomi team.
In this Article, we discuss all features of Mi Mover app and talk about all usability of this Mi Mover App. If an only data transfer is your motive and you have good speed of internet then you can easily transfer your all data via Mi cloud but in this way, you need internet data and too much time which depends on your connection speed.
If you buy a new phone and now want to transfer all your data from old Xiaomi phone to new Xiaomi phone then you can use this Mi mover App. The old phone may be Redmi 1S, Redmi 2, Redmi 3, Mi 3, Mi 4 etc and a new one may be Redmi 3s/Prime, Redmi Note 4, Mi 5, Mi 6. In short, like you want to transfer all data in your new Redmi Note 4, Redmi 4A, Redmi 4 etc. Mi Mover is the best solution.
But if you want to use both devices and you want your data sync with both devices then don't need to worry. this is an easy task you can do it via the help of Mi Cloud service. You just need to use a Mi account on your old device and make sure enable Sync service now all your old phone data copied on Mi cloud server. Now start your new Mi phone and enter same mi account user id and password which you use in old mi phone. Now you see all your data comes automatically in your new phone.
Through this Mi cloud sync service, you can enjoy all data on both devices on same time like you capture a picture from your new phone after a couple of seconds this photo automatically shows in your old phone.
Xiaomi Mi Mover App –  Download link:
If you are on MIUI 8 or  MIUI 9 then there is no need to install MI Mover App. This is pre-installed service you can activate and use from here.
Go to settings -> Additional settings -> Mi Mover
If you are using the normal Android phone like Micromax, Lenovo, Samsung, Oppo, Vivo etc then you need to install Mi app from PlayStore.
You can easily download this Mi mover app from Google play store. Click on below link to download Mi Mover app.
Click here to Download Mi Mover App from Google PlayStore
Xiaomi Mi Mover App – User Guide:
If you are thinking to move all data from one Xiaomi phone to another is too hard then please be cool. This is so easy.
Follow below steps to transfer all data from old phone to new Xiaomi phone (Redmi & Mi):
In new Phone : Go to settings -> Additional settings -> Mi Mover.
Now choose Recipient
In Old Phone: Go to settings -> Additional settings -> Mi Mover.
Now choose Sender.
A scanner open, Scan the QR code which appears on the new phone screen.
Now select which data you want to move. and tap on transfer now button.
All set, done.
After some time you see a completion message on the screen. After that, you can check all data transferred in your Xiaomi phone. So now enjoy all your data in your new phone without any hesitation else think about that if you copy all data one by one in your phone. But no, Xiaomi take care of its users. They make Mi mover especially for you.
So Enjoy Xiaomi service.