In a short span of time, OnePlus 5 has become the most hyped smartphone to hit the markets. The flagship smartphone, which will succeed OnePlus 3T, is coming with a 5.5-inch FHD display, Snapdragon 835 processor, 6GB/8GB RAM with 64GB/128GB storage variants, dual rear cameras, and a 3,300mAh battery and Bluetooth 5.0. OnePlus 5 will run on Android 7.1 Nougat with the company's native Oxygen OS on top. The fingerprint sensor is in front just like their other phones. The vibration motor has been upgraded, it makes really low noise and has more intensity than before.
And as the days are coming near of the announcement of the phone both in India and all over the world,  the number of leaks we're seeing are also increasing. Now a new poster leaked out of China reveals the official pricing for the smartphone in India.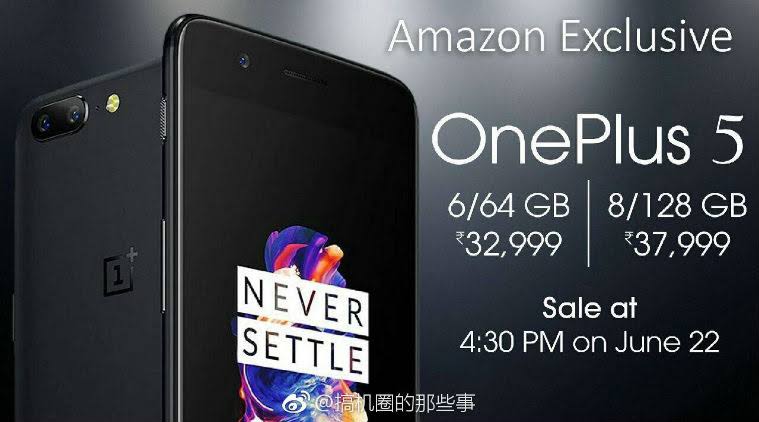 OnePlus is really advertising this product frantically. With likes of Amitabh Bachchan ( Bollywood superstar) starring in the advertisement which ran during India vs Pakistan Champions Trophy 2017 final match which tells the official date of the launch date of the phone in India. And the release date of this phone on July 20th, 2017 worldwide, the event will be streamed online through the company's website starting 12pm EDT – 9:30pm IST – June 20. And the company is planning to do some pop-up events,the first pop up will be on the launch day itself in New York with special guests including company founder Carl Pei and Marques Brownlee (aka MKBHD), it plans to organise pop-up events in Paris, Amsterdam, Berlin, and Copenhagen the very next day.
Bearing more than a passing resemblance to Apple's latest models, the OnePlus 5 also borrows the dual camera configuration from the iPhone 7 Plus — revealed by The Verge to be comprised of 16-megapixel (Primary Camera), and 20-megapixel (Telephoto Camera) Sony sensors with f/1.7 and f/2.6 apertures, respectively.
In the smartphone world, there are basically two brands that lead in the front i.e Apple and Samsung. What makes them really special? Their ability to create amazing cameras that's difficult to match. thanks to the efficiencies of the smartphone supply chain, anyone can put together a high-end processor, design a metal unibody phone, put Android on it, and have the appearance of a premium phone. Only Google can come close to them.
OnePlus is one of the challenging companies to these giants. OnePlus has always made phones really good with high end specs but a low price. But this time they have made their phone with a high price tag because of CAMERA. Because OnePlus has never made cameras which can match the best in the market. OnePlus has never built a phone that could match the best cameras on the market. "The OnePlus 3 can compete with the flagships, but the camera is a good camera, it's not an amazing camera," admits co-founder Carl Pei about the company's 2016 phone (OnePlus 3).
The OnePlus 5 features a dual-camera system, a first for the company. The main camera is a 16-megapixel Sony unit with an f/1.7 aperture lens. The second camera has a 20-megapixel Sony sensor with an f/2.6 "telephoto" lens. OnePlus claims that this is "the highest resolution dual-camera system on a smartphone today." And as you can see the cameras are on the left side because if they would have been in the middle, it would really look bad because of its thickness and it would make holding the phone harder.
As you can see these are the designs which the team of OnePlus tried, before finalizing this design (which people are trolling them for making a copy of iPhone 7). But even if it copies, that's not a big deal because OnePlus is a startup (well not technically it is wholly owned by BBK Electronics, which also owns the Oppo and Vivo brands — but it tries to behave like one. It has roughly 700 employees, far fewer than the tens of thousands employed by competitors Apple, Samsung, or Google) and the phone also looks same like Oppo R11.
But you can clearly see how they have copied the camera app of the iPhone. But as told above OnePlus is just a startup kind of company and they don't have the resources to try something new every time.
One more interesting thing OnePlus has added is Snapdragon 835 processor. Its 35% smaller, which will make the phone thinner and its 25% faster which will make phone really fast because it can capture images up to 32 megapixels with zero shutter lag and games will run smoothly burning less battery.
OnePlus claims that this will be the thinnest phone of theirs till date and it will have dash charge which OnePlus 3 and 3T also had.
Flash Sale Date & Easy Buy Link – OnePlus 5:
As of now OnePlus Exclusively available on Amazon India store.
First Sale date is: 22 June 2017 04:30 PM
Next Sale Date is:
Click here to Buy OnePlus 5 from Amazon
Some things to worry about :-
1. Battery life :-
OnePlus 2 which had 3300 mAh, OnePlus 3 which had 3000 mAh, and OnePlus 3T which had 3400 mAh are accused of low battery life after some time (Complains against OnePlus 3T were really low compared to other two).
Note : – OnePlus 5 will be exclusively available in India on Amazon. It will go on sale at 4pm, 22nd July, 2017. Amazon sometimes don't offer cash on delivery for expensive items. So make sure you have credit/debit card to get your OnePlus 5 on the launch date itself.
FAQs:-
Q. Why The Telephoto lens which is the secondary I.e second lens has more megapixels than the primary one?
Ans. The logic behind this is simple, that when you zoom it way deep you are using all the data from the secondary lens so it needs to be of higher resolution.
Q. Is OnePlus 5 Support VoLTE?
Ans. Yes, OnePlus 5 Support VoLTE.
Q. Can I make Video calls through OnePlus 5 by using my Jio sim?
Ans. Yes, OnePlus 5 Support VoLTE, So you can make the video calls using VoLTE function.
Q.Is OnePlus 5 have hybrid SIM slot?
Ans. No, OnePlus 5 have separate two nano SIM slots.
Q. Is OnePlus 5 have an Audio jack?
Ans. Yes, OnePlus 5 have 3.5mm audio jack.