Hello, MIUIers. hope you enjoying Xiaomi services. Today we discuss Xiaomi backup service. Backup is too important for us because of many reasons. Because everyone wants alternate, Suppose one day our phone is not working or stolen by us then where we go. If we have a backup then we face less trouble. Whereas Xiaomi always ahead in services, here you get two options to take backup. If you have full speed working Internet in your daily life then you can use mi Cloud service. where you store all your data like messages,call history, notes, contacts, photos,system settings, alarm, recorded audios etc. If you don't have full speed Internet then don't worry it's Xiaomi, You can take backup offline. Today we discuss how to take offline backup of Xiaomi devices.
As you know Xiaomi Mobiles work on MIUI os. So this backup functionality work for all Xiaomi devices. No matter which phone you are using like Redmi 1S, Redmi 2 / Prime, Redmi Note 4G, Redmi Note 3, Redmi 3, Redmi 3S /Prime, Redmi Pro, Mi Pad, Mi Pad 2, Mi 2, Mi 3, Mi 5 etc.
Requirements to take backup in Xiaomi Mobiles :
Here we talk about offline backup. So there is no need of internet connection. Your phone must have empty space in storage. So during the backup, we don't face any trouble. This is the only requirement for offline backup in your Mi Mobile.
Steps for Taking Backup in Xiaomi Mobiles :
There are not complicated steps for backup. You just follow simple steps to complete your task.
Follow Below steps to take backup in Xiaomi Mobiles :
Go to Settings -> Additionals Settings
Choose Backup & Reset option.
Choose Local backups option.
Tap on Back up option.
Choose options for backup.
tap on backup button.
All Set. done.
After following above steps your backup stored in your phone storage. Bacup location is Storage/MIUI/backup/AllBackup/
In the above location, a folder created which have current backup files. you can copy this folder and save on another palace like your HDD or in your laptop. which ever you want.
Steps for Restore Backup in Xiaomi Mobiles :
The restore process is too easy as the backup process.
Follow Below steps to Restore backup in Xiaomi Mobiles :
Go to Settings -> Additionals Settings.
Choose Backup & Reset option.
Choose Local backups option.
Here you got a list of your previous backup. Choose one of them.
Tap on Restore button.
All Set. done.
Here you see its too easy to take backup. and restore process also too simple. But one thing which you are missing is "Customization" . We love the Xiaomi because of customization option in approx all services. So here you also have various options during backup and restore. Like you can decide which data to take backup of any individual app or All Apps. Here you can customization many more things in system backup also like Browser,Security,Weather,Weather Provider,Camera settings,Call history,Messaging,MMS, phone & Message settings, WiFi Settings, System Launcher, Clock, Notes, Blocklist, FM Radio, Contacts – Dialer and Mi account.
Every options backup is upon you. Whichever you want to decide your phone take only selected options backup chosen by you.
In The Restore option, you also have same customization options. Suppose you take all apps backup during backup time. But now you only want to particular App restore  then don't worry MIUI gives a feature during restore. you can choose what you want to restore.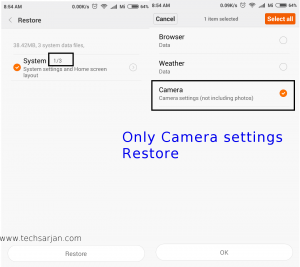 Whole backup & restore process are based on MIUI. no matter you are using MIUI 6 /MIUI 7 or MIUI 8. You can also use Mi Mover for your data transfer to another Mi Phone. If you have good internet connection then you can choose Mi Cloud Sync service where you don't need to take any backup. All data automatically Sync with Mi Cloud. and you can access your data from anywhere in the world. You can also take backup via Mi Pc Suite. Through the help of PC Suite you can easily store backup in your computer.
Enjoy Xiaomi services because
Something wonderful is about to happen.