Hello MIUIers, Hope you enjoying MIUI services. Today we discuss a common problem related to Mobile data connection. When you want to connect to the Internet then you have two options either connect with WiFi OR Establish a connection through mobile data. Sometimes you see, you can't connect to the Internet using Mobile data in your Xiaomi Mobile.
This problem can occur in any mobile no matter which phone you are using like Redmi 2 / Prime, Redmi 3 ,3S, Redmi note 3, Redmi Pro, Mi 3, Mi 4, Mi 5 etc. Means mobile data connection error problem happen in any phone no matter which is Redmi series or Mi series. Update your MIUI 7 to MIUI 8 is not your solution. you can solve this connection problem in MIUI 7 also.
Reasons of Mobile Data Connection Problem in Xiaomi:
This is not a big problem even when it happens you can easily connect your WiFi. This Mobile data error mainly happens because of two reasons.
If you upgrade your MIUI versions then chances are high for data connection establish error.
If you change your SIM card or do something in APN settings then also chances are high.
Sometimes you don't know what you do but you just faced this problem.
Steps for Solving Mobile data problem in Xiaomi :
It's too easy to solve. this is a Minor problem you can solve easily.  As i above described why this happen so here we try both options.
First Way :
This way helpful to you if you update your MIUI version. Like if you update MIUI 7 to MIUI 8. then you face this problem. So if you recently update your Xiaomi mobile then follow first way else follow second way.
Follow below steps to Solve Mobile internet problem :
Open Security App.
tap on Cleaner option.
Here you choose deep clean.
Restart your device and try.
if still not working then try with Wipe cache data .
Second Way :
This way helpful to you if the problem occurred through APN settings. if first way is not useful to you then you can follow below steps to solve your problem.
Follow below steps to Solve Mobile data connection problem in Xiaomi :
Go to Settings ->SIM cards & mobile networks .
Choose your SIM card under SIM CARD SETTINGS.
Tap on Access Point Names under CELLULAR NETWORK.
Here you Get APN lists in GENERAL and MMS section.
Tap on Reset option from the bottom.
All Set. Done.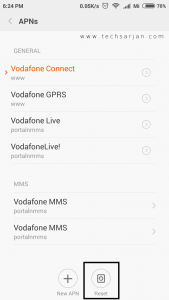 After above steps your data connection problem solved. If you still facing connection problem then Please contact your network service provider and ask them for APN( Access Point Name). Once you receive APN then choose New APN option .and fill the entries according to your network service provider. then your problem definitely solved. Here you solved your problem now you connect the internet using Mobile Data in your Xiaomi Mobile.
Enjoy Xiaomi services because
Something wonderful is about to happen.