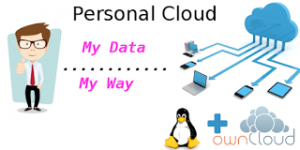 Cloud Storage you already know what is cloud storage.But the question is why we need Personal Cloud when many companies give this service free of cost ? Everyone have own view. Some users are tensed for there data security.some worried miss use of there important content which is uploaded on any third party cloud storage.
Why we need Private/Personal Cloud:
This is the big question why we need Personal Cloud. Its quite simple because a global storage provide like google drive,drop box,flip drive.  They can not give services according to you Because every user want his own rules. So if you want
your rule on your data
then you must be use your personal cloud. Another reason for Personal cloud is if you want know one can access your  content then you also must be go with personal cloud. One more reason for Personal cloud is
Faster access of your file
because its stored on you local server.
Basic requirement of Private/Personal Cloud:
If you think setup you own Personal cloud then first thing comes in mind "What is the Cost". No Dude its not get higher cost. Its only want  your old PC and High storage hard disk like 1 TB or 10 TB Size according to your need. System RAM must be 512 MB above. duel core processor is enough. Your system must be connected with your local network through LAN or WIFI. and one more thing your system have Linux OS. No matter which distro you used  like Debian,Ubuntu,mint,Elementary,kali etc
How to install Private/Personal Cloud (owncloud):
Many open source projects available for Personal Cloud like owncloud,openstack and many more. Here we use
Owncloud
. owncloud one of the best script for personal cloud. ownCloud is open source – there are no limitations and you can inspect, integrate, extend and modify ownCloud however you want. its give many features like
Share and collaborate your data with anybody
Flexible storage according to your need
Real time Mobile and desktop syncing
Your calendars and contacts
Work with your documents anytime
Activity feed and notifications
Recover files (Accidentally deleted files)
Galleries
Play music, watch movies, store passwords
Installation Steps:
First install Lamp in your System (Apache,Mysql,PHP)
Second download zip file of owncloud from here 
Extract files in www directory and give full permission to owncloud folder.
make a database. and point to your browser to owncloud script . sytem ask for database name , enter your database name and also give admin username and password.
ok !! All things is done now you ready to store your file.
Error During install 
Data directory (/home/www/owncloud/data) is readable for other users
Please change the permissions to 0770 so that the directory cannot be listed by other users.
After successful install system give the above error. Don't take tension its just permission issue because owncloud is too secure even your data directory is visible on server side then system gives error so you can detect if some one change permissions to see your content.
Remove Error
Open your terminal and type
chown -R www-data:www-data /var/www/owncloud/*
ok now all things is done. Your all content is owned by you. Not to others. Choose what ever you want. Here you control
Store your private pictures, documents, calendar and contacts on your ownCloud server at home, a rented VPS
Run your ownCloud server in a place you trust and access all the data you care about in one place
Send password protected public links so others can upload files to you; get notified on your phone when you get a share from your own or another ownCloud server. Edit documents together, have video calls over your own server, comment on pictures shared with or by you. Don't be alone!
And many things you can done through owncloud. You can read from here
Search Content List:
How to make My Personal Cloud.
What the benefits of personal cloud.
how to configure owncloud.
why i need personal cloud.
Personal cloud requirements.
how to secure my data.