Hello Readers, Today we talk about Telegram App features, As you know Telegram is a messaging app which works on cloud technology so you can access your messages across all your devices no matter which device you are using. You can access all your Telegram messages from any device there is no mandatory to have an Android mobile to access your chat history however you still need a smartphone to create a Telegram account but after creating an account then you can access your all chat and make a new conversion without your smartphone via Telegram desktop app.
In this article, we share best tips & tricks of Telegram app which you can use during Telegram messaging. Here you also get many reasons to switch Telegram app over other messaging apps like Whatsapp or WeChat / hike.  Here we share why Telegram is the more powerful app and Why Telegram famous too much over WhatsApp. Here we also talk about Telegram features which make Telegram unique in other messaging apps market.
Best tips & tricks for Telegram Messenger App:
If you are using Telegram messaging app then we want to share best cool unknown tricks which you really need to know because Telegram is an awesome messaging app and you must use all the features which provided by Telegram app. Here we also share best Telegram tips for you to feel special person during app usages.
1.  Telegram users can be found via username:
Yes, this is the most loved feature in Telegram app. In General, if someone wants to chat us then he/she surely needs your mobile number. What happens if you don't want to share your mobile number with that person. If you using WhatsApp then there is no way for you. In the end, you just need to share your contact details with that person. But Here in Telegram don't need to share your contact details. You can create a username and share this username with all friends which want to contact you by Telegram messaging service.
Creating a  username in Telegram is too easy. Just tap on left side menu icon, now tap on settings option here you need to tap on username section. Now you see a text box appears on the screen. Now type your required unique username and tap on OK option which available on right side top bar. So now you don't need to share contact number with anyone, just your username.
2. Instant Media Access in Telegram Messanger:
Telegram provide a chat session for your own self, Means Here you can share your docs, media file which you want to access in near future. Suppose you have a document in your mobile and now you want to access this document on your Computer/Laptop. Now two possible situations are here. You connect your Android Mobile to the computer via data cable and copy your desired file. OR you attach that file in an email and send to another user or just upload on any drive like Google drive and then you access via your computer.
But here Telegram gives an awesome solution. You just need to send the desired file in your own chat and then you open Telegram Web or Telegram desktop app on your system and can easily download that file without any hassle.
3. Self-destructing Messages in Telegram Messanger:
what if you send a message to someone in past and now the person blackmail you. looking weird but yes this happened many times with many peoples. So here Telegram provide the best solution for you. You can set a timer for your message. Once the time up then the message which you sent is deleted from both sides. In the same way, you can also send a photo with self-destruct short timer, This photo can only be viewed while you're holding your finger on them. Even Telegram also send a notification if the recipient takes a screenshot of that message.
This self-destructing messages only works in secret chats. You need to enable secret chat for that recipient. To set the timer, simply tap the clock icon (in the input field on iOS, top bar on Android, chat info page on WP), and then Set Self-Destruct Timer to the desired time limit.
4. Availablity on All devices:
In the Telegram word,  There is not necessary to have your smartphone near with you in order to check your chat messages. You can access your Telegram chat and make new conversion via Telegram Web service or you can use Telegram desktop app which available for all platforms like Windows, Mac & Linux.
Suppose your mobile data is over and now you need to access your chats immediately then what you do? If you are using WhatsApp then your mobile must have a working data connection in order to use WhatsApp services on WhatsApp web. But here in Telegram, There is no need to have a working data connection on Telegram Web as well as Telegram desktop App.
You can access Telegram web from here. and you can also download the desktop app of Telegram from here.
5. Manage up to 30000 members in Telegram Group:
In the Telegram app, you can add up to 30000 members in your group whereas WhatsApp only allow 256 peoples and Hike messenger allow only 1000 peoples. So here you get one more reason to choose Telegram over then WhatsApp or Hike.
Telegram has many features in group like
Unified history (You can edit messages and can also delete them after posting)
Cross-platform availability (Available on mobile app, Web & Desktop App)
Instant search
Replies, mentions, hashtags
Smart notifications
Pinned messages
Moderation tools
File sharing (any type of file up to 1.5GB)
Short public link for Invite Peoples
6. Last Seen Privacy Feature with customization:
In general messaging apps like WhatsApp, hike you can only block someone to hide your last seen with them else you can only enable hide last seen for all your contacts. Even after enabling this function you can't see any other person last seen. But in Telegram, you can set everything like which can show your last seen which not. You can easily create an exception list where you can decide whether your last seen show with them or not.
To use this last seen privacy feature go to settings -> Privacy and Security -> Last Seen. Here you can configure your desired settings regarding last seen.
As Last seen here you also set privacy on Telegram Calls. Here you can set who can call you. You want to accept audio calls or not. Call privacy option also you found in Privacy and Security option.
7. Channel Service in Telegram:
Telegram actually understand your requirements. Suppose you want to share messages with users but don't want to listen from these users. In this case, group facility won't help you because in a group anyone can post anything you can only delete that member which post worst things in your group. But here in Telegram, you can create a channel which can be subscribed by your fans or other users. In this channel, unlimited users can be added and you can share or you can say broadcast your message easily on the channel. In the channel unlimited users can be added, there is no limit like supergroups. Here Telegram also has two options in the channel section.
Public Channel (Which can be subscribed by anyone vie searching)
Private channel (Admin need to add in Channel list or need the invitation to subscribe)
8. Private Chat facility in Telegram:
Security is the most thing in messaging apps. Here Telegram also takes chat security seriously. Hence Telegram provides Private chat facility to all users, you can enable private chat via tapping on the user profile. Now you see a green color text Start Secret Chat on the bottom. Tap on this option a confirmation message appears on the screen. Once you tap on ok for the secret chat, A secret chat request goes to the recipient. Once the recipient accepts this request now you can use private chat facility on Telegram. Some Telegram secret chat   features
end-to-end encryption
No Record save on Telegram server.
Self-destruct timer available
message forward not allow in the secret chat.
9. Various File Type support up to 1.5GB:
In Telegram, you can send any type of file in chat conversion. like any powerpoint presentation, word document, pictures, videos, pdf, zip files etc. All files supported by Telegram. Here you can send up to 1.5 GB file. This is the highest file size limit in messaging apps where WhatsApp only allow 16 MB video file size here you can enjoy long videos.
10. Call Facility by Telegram:
Not even chat you can also make an audio call with friends in Telegram App. Recently Telegram introduced call service for their users so you can make audio calls with the help of Internet data. There is no need for mobile balance you can directly talk with your friends with the help of mobile data by using Telegram call facility.
Apart from this if you are a developer then a good news for you. Telegram is an open source program you can see the codes and can access Telegram API to build custom apps for Telegram. Telegram used MTProto Mobile Protocol to secure chat conversions. Even Telegram also announce $200,000 price for hackers if they crack the server.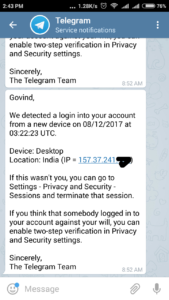 Here Telegram also notifies you if someone accesses your account from a different device like the web app or desktop app. Here you also share your feedback with Telegram team.
Download Telegram Messenger:
If you and using Android mobile then you can easily install on your mobile from Google Play store. If you using iPhone / iPad then you can install from iTunes store.
Good news for Linux users who always suffer for Linux release here Telegram introduced a desktop app for Linux users also. So we can access Telegram chats on Linux desktop also. You can download Telegram desktop app from here. No matter you using Ubuntu, Debian, Linux Mint or Kali Linux. This Telegram Linux package work on all Linux distributions.