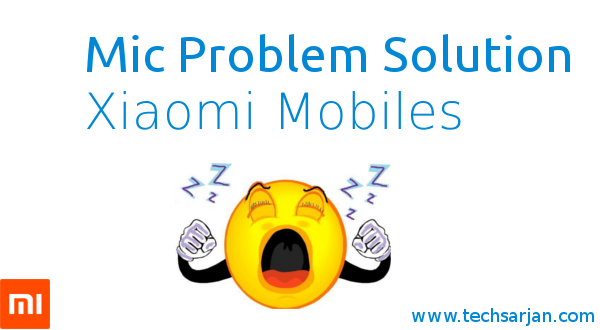 Hello MIUIers, hope you are doing well. Today we talk about a well-known problem which is faced by many Xiaomi users. Yes, we are talking about Mic (Microphone) problem. Everyone knows that calling a basic & mandatory feature in any phone no matter which is a feature phone or smartphone. What the purpose of buying a phone if another person can't able to hear our voice during a call. So Microphone problem is a major problem in Xiaomi mobiles.
You may face this problem in any Xiaomi device no matter which is Redmi 1s, Redmi 2, Redmi 3s / Prime, Redmi 4, Redmi 4A, Redmi Note 4G, Redmi Note 3, Redmi Note 4, Mi Note 3, Mi 3, Mi 4, Mi 5, Mi 6, Mi Pad etc. All Xiaomi mobiles including Redmi & Mi series may face this problem. No matter your phone running on MIUI 7, MIUI 8 or MIUI 9. We want to share one thing with you that Don't think, your phone has a hardware issue. This Microphone problem occurred because of a software bug. Which is already reported to MIUI developers. God knows when they solve this issue. But we can share with a temporary solution so you can easily out from this worst situation. We understand how you feel when others person says that Your voice volume is too slow on my end, Even you talking with full volume. Don't worry about it. You can easily solve this Mic problem via following some easy steps which we share in this article.
How to Check Mic Problem Exists or not:
If your phone is brand new and don't have any physical damage on the body but still another person complaint low volume then chances are high that your Xiaomi mobile has Mic problem. You can also check via hardware test.
Go to phone dialer and dial *#*#6484#*#*
You will get the option to do an Automatic Test or Single Item Test. Here select Single Item Test.
Look for Mic Speak Loop or Speaker & Receiver and follow the instruction.
If the result is pass your hardware is working as it should and there is no fault. If there is any damage you can go to the Mi Service Center to get it diagnosed.
Normally this test is always passed Because Mic doesn't have any physical damage. As we earlier said this is a software bug. So simply you can detect this Mic problem easily if someone complains you about low volume voice on their end. If you receive this type of complaint then definitely your Xiaomi mobile is infected with Mic bug (Microphone problem).
Steps to Solve Mic Issue in Xiaomi Mobiles (Redmi & Mi):
You can easily solve this problem via following some easy steps which we share in this section. Make sure you follow all steps. This problem mainly occurs because of OK Google. You already know about OK Google, Through the help of OK Google you can search via your voice even its work like your assistant which tells you time whenever you ask. It gives details of nearest hotels, ATMs, Bus routes etc. So if you enabled Ok Google, Then chances are high of Mic problem in your Xiaomi mobile.  Simply disable OK Google function from your phone. after that restart your phone. Voila !! Mic problem solved.
Follow below steps to Disable OK Google Detection to solve Mic Issue in your Xiaomi Mobile:
Go to Google Settings from MIUI Launcher.
Tap on Search option.
Now Choose Voice.
Here tap on "OK Google" detection.
Now Disable OK Google.
Restart your phone.
After restarting your Xiaomi phone you can check phone's mic performance through the help of Recorder App which is preinstalled on your Xiaomi phone. Open recoreder app and record something in low volume and save this audio. Now play that recorded video if your voice comes in good quality then your mic problem solved.
If you unable to disable Google Detection or If you want to continue use OK Google services then this solution not worked for you. Becuase you want to use OK Google on daily basis. Don't worry we have another solution for this Mic Problem.
Second Solution:
You might be noticed or not but if you restart your phone then this mic problem gone for atlest 30-35 hours. So, in short, you need to restart your phone on daily basis. We know this is not possible every day you restart your phone. Don't worry MIUI have an auto restart function where you can set a predefined time on that time your phone automatically restart. Follow below article instructions to set auto ON/OFF time in Xiaomi phones.
Click here to Know – Auto ON/OFF function in MIUI Full Details
This is a temporary solution. Mic Problem issue already reported on MIUI forum. Soon you get OTA update which is helpful to solve Mic Issue in your Xiaomi Mobile. The above given solution worked in all Xiaomi Mobiles no matter which is Redmi 1s, Redmi 2, Redmi 3, Redmi 3 Pro, Redmi 2 Prime, Redmi Note 4G, Redmi 4 A, Redmi 4, Redmi Note 4, Redmi Note 3, Mi 3, Mi 4, Mi 5, Mi 6. given solution is working on MIUI 8. there is no need on MIUI 9 becuase hopefully Mic issue solved in next OTA updates.