Hello MIUIers, hope you are doing well. Today we discuss location sharing function in Xiaomi mobiles. Everyone want to track someone. Maybe you also want track someone location. it maybe your friend, wife, girlfriend, boyfriend, son, daughter etc. Today we tell you how you can access other people's exact location without installing any third party app. Why we use third party app when Google give us free. Yes, Google provides us a free location track service through Google plus.
You can track any one in your friends list if they share their locations with you. All process easy to  implement in Xiaomi mobiles which are based on MIUI 7 OR MIUI 8. This service available for all Android mobiles no matter which you  are using like Redmi 1S, Redmi 2 / Prime, Redmi 3S / Prime, Redmi note 3, Redmi note 4G, Mi 2, Mi 3, Mi 4, Mi 4i, Mi 5, Mi 5s plus etc.
Requirements for Location track :
Both users have Google plus App on their devices. This is bloatware app. Every Android phone comes with preinstalled Google plus app. Just update google plus app from playstore or click on update button when app asks for an update.
Settings on friends phone to track him :
You must be in his friends circle to access his location on your device. Open your friend Google plus app from his device and do below setting to access his location in your mobile.
Launch Google plus App (Make sure you have latest version)
Tap on Menu icon from left side top.
Choose locations option.
tap on menu icon from Right side top bar.
Now Choose location settings.
First turn on this service.
Then choose Peoples from Pinpoint location.
Make sure you already add in his/her friend circle.
Tap on Finished Icon.
All  set. Done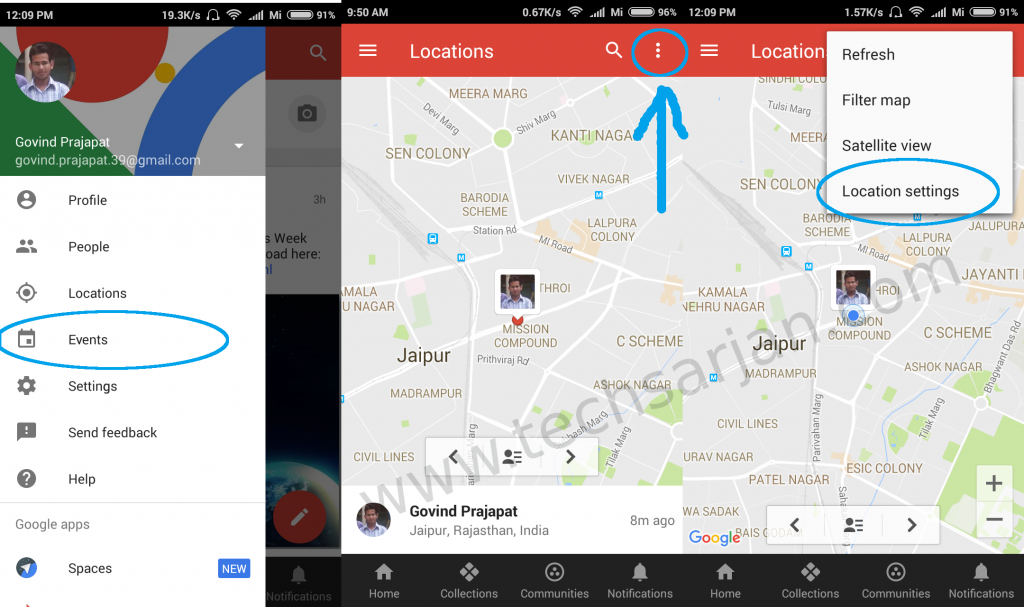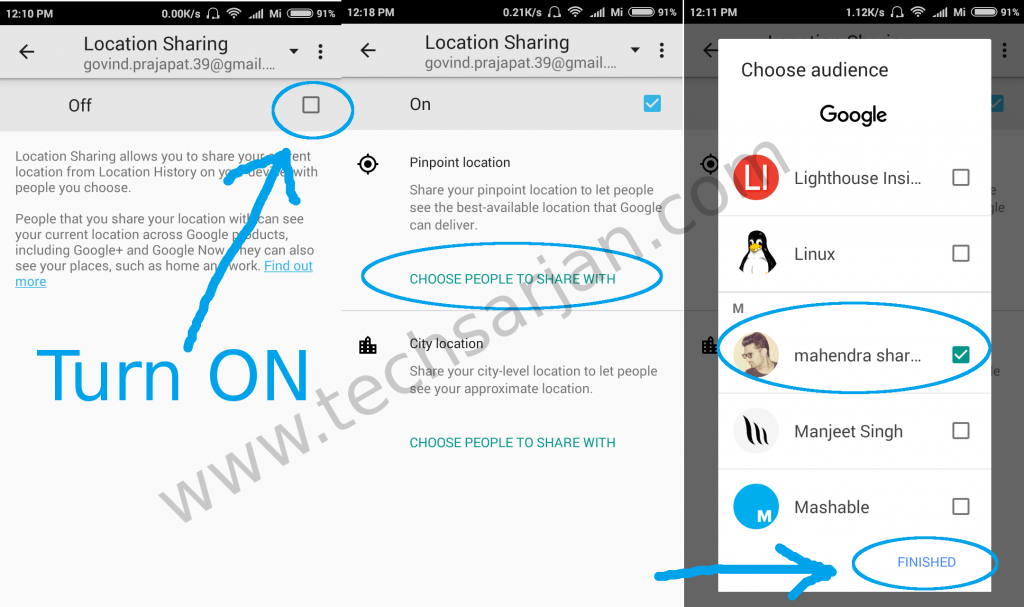 In the step, you have two options Pinpoint location and City location. As name described in the Pinpoint location you get the exact location of your friend and in the City location option you can track only city names. So always choose Pinpoint location option.
Steps to track friend's location in Android Mobile :
Before starting to track your friend/ wife  you must be do some settings on their mobile which is described in above paregraph.  Make sure you do all settings before processing steps. This is not to hard to track someone. just follow below simple steps to track someone using Google services.
Launch Google plus App (Make sure you have the latest version)
Tap on Menu icon from left side top.
Choose locations option.
Here you see an icon above bottom menu.
Tap on that icon here you see all names which shared their location with you.
Tap on any name which you want to track.
Now you see the exact location of that particular person.
After following above steps you can easily track your friends. Same process you can follow in iphone. Means you can also track iphone user via your Android device. reverse also true means Android user also tracked by iphone.
Now tracking is so easy. So lets start tracking. You can track your friends, wife, husband, girlfriend, boyfriend or someone else which you want. Always choose Pinpoint location in tracking option.  Enjoy friends tracking in Xiaomi phones MIUI. You can follow above steps in any MIUI version like MIUI 7 or MIUI 8.
If you want to track someone calls, messages, WhatsApp chat messages then you need to some paid app because "Free me kuch nahi milta boss". Soon we share some paid apps link which is good to track someone details. We are reviewing all the apps after check we post links. Through the help of those apps, you don't need to friend circle. You get all details of the particular person in your laptop including all call logs, messages, facebook chats, WhatsApp chats etc. Spy apps link posted soon. When you use Spy apps then tracking your spouse is soo easy. We posted soon till then
Enjoy Xiaomi services because:
Always believe something wonderful is about to happen.