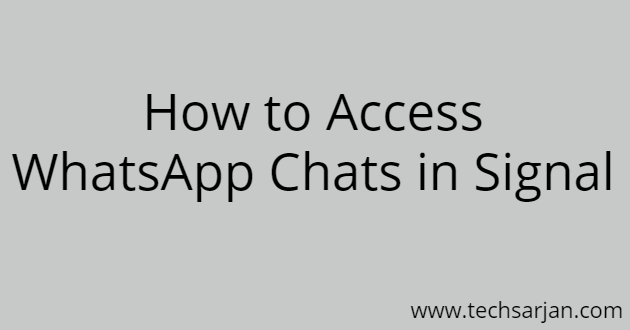 Hello Users, hope you are doing well. Today we all talk about all possible ways where you can learn how to access old WhatsApp chats in the Signal messaging app. Here you get tricks to import WhatsApp chats in Signal App. Here we first Export WhatsApp Chats and then Import these chats in Signal App.
Ass we all know recent WhatsApp Privacy update. Now many people moving to Signal App. But when you think to move your preferred chat app data migration is the biggest challenge. We all need our previous chats.  Because no one wants to access WhatsApp for previous chats and Signal for new chats. So here chat data merger between WhatsApp and Signal is a major challenge for a common user. In this article, We share step by step guide to move your all chats from WhatsApp to Signal.
What is Chat Export in WhatsApp:
Export is a facility where we get data from the system in a specific format. On many systems you see they provide the export facility where you get that data in Html, pdf, excel, jpg, png format. Unlike them, WhatsApp also offers a Chat Export facility where you can export all chat data in a text file.
Steps to Export Chat in WhatsApp – get text file and images
Launch WhatsApp and open any individual chat.
Tap on the three dots (Right side top corner)
Now a menu appear, Tap on the More option
Now Choose Export Chat.
Pop Appear for "Without Media OR Include Media" Choose according to your need.
Now, System Ask for save location. Choose local file path, OR Choose email
Now your chats Saved in txt format
Through the above steps, you can save your all chat history in a text file and you can also save pictures, videos, audios, etc.

What is Chat Import in Signal / WhatsApp:
Import means here we provide all data in a specific format so the target machine accepts the data and behaves accordingly. For example, in a school management system, we add students one by one. But all software gives a bulk upload facility. where we provide the data in a predefined format in excel and the system accepts that excel and adds all these students in bulk.
Sorry to say but unfortunately Chat Import Facility not available in WhatsApp. And one more sad news is Signal also doesn't have a chat import facility.
Signal Don't have Chat Import Function. Is there any other way to get access to old WhatsApp Chats in Signal?
As you know, Signal is an end 2 end encrypted chat application. They always offer better security. So you can't import/access WhatsApp chats in Signal App. You can not access group WhatsApp Chats as well as Personal WhatsApp chats.
Then What is the solution?
As of now, you can only export your chats from WhatsApp and store them on Google Drive, Computer/ Laptop, etc.
We update our Article if any chat import function introduced by Signal App. But As of now, this is not possible to access your WhatsApp personal/group chats in Signal.