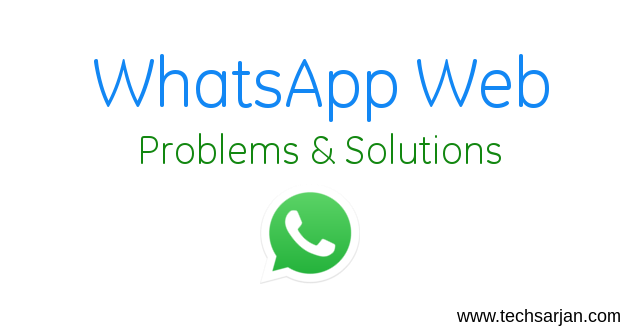 If you are looking for a solution for your WhatsApp web problem then you are at right place. Here we discuss all WhatsApp problems with working solutions which is related to WhatsApp QR Code, WhatsApp web connection error, WhatsApp Sync Problem etc.
WhatsApp Web is a service where you can enjoy WhatsApp chat on your laptop/system. This feature introduced by WhatsApp Inc. because of the high demand of users. In this service, you need to open a web URL (https://web.whatsapp.com) in your web browser. Now you see a QR code generated on the screen. Let's launch WhatsApp app on your mobile iOS/Android and scan this code. Now all your chats come on system screen. Now you can enjoy chatting with WhatsApp friends on your personal laptop/system. Make sure your mobile and laptop have working and stable net connection. As you know WhatsApp doesn't store any data on their servers. Once the user read the message they delete that message from their servers permanently. So we can say WhatsApp web chat just Sync data from our WhatsApp mobile app to desktop that's it If we disable internet connection in mobile then we can't access chats on the system. So this is mandatory to have working internet connections on both sides.
During WhatsApp launch on the system, you may face many problems like QR Code error, Scanning problem, Camera focus problem. Maybe you face late message delivery on WhatsApp web. So here we talk about all possible solutions to solve all these basic problems. Here you may also face browser comfortability issue on WhatsApp.
Earlier WhatsApp introduced a status feature in their App. But this Status function not available on WhatsApp but now you can easily see other peoples status on laptop/system through the of WhatsApp web service. Even you can also update not only profile picture but also WhatsApp status which disappears after 24 hours of the status update.
WhatsApp Web Problems & Solutions:
Here we discuss common Problem and solution which is faced by users during using WhatsApp web service.
Q. Whatsapp web QR code not generating on screen. What should I do?
Ans. Please check your internet connection and try again and make sure you are opening correct URL https://web.whatsapp.com
Q. An error appeared on screen show Browser comfortability issue during WhatsApp Web. How to solve this problem?
Ans. Make sure your browser updated with the latest release. Please don't use IE (Internet Explorer) for WhatsApp Web. Always use Mozilla Firefox, Google Chrome, Safari etc. You can also use Microsoft Edge browser which is perfectly working with WhatsApp Web.
Q. WhatsApp chat box not opening after QR Code scanner. A loading symbol continuously coming on screen. How to solve this problem?
Ans. Please clear the browser cookies and try again. Make sure your mobile have working internet connection.
Q. My Android mobile Camera not working. Can I use WhatsApp Web?
Ans. Generally, WhatsApp web requires QR Code scan to authenticate your id. But if your camera not working then you can use external camera via USB if your mobile support OTG connections.
Q. Can I use WhatsApp Web without the internet in Android mobile?
Ans. No. As we earlier said you need the internet connections on both sides.
Q. Can I hack someone WhatsApp account through WhatsApp web?
Ans. Yes, you can do it. Just need to victims mobile for one time But this is a crime.
Q. Always shows a connection error on WhatsApp Web
Ans. May be you are using Campus/university WiFi where Network admin block social sites. Ask them to unlock following URLs web.whatsapp.com, *.web.whatsapp.com and *.whatsapp.net
Troubleshoot Process of WhatsApp Web – User Guide:
Here we tell you how to use WhatsApp Web through your mobiles. The process is different on all mobiles like Android, iOS, other models etc.
For iPhone Solution:
Reboot your phone.
Turn your Wi-Fi or Airplane Mode off and on.
Make sure you are using the latest WhatsApp version from the App Store.
Reset your Network Settings.
For Android Phone:
Turn your phone, Wi-Fi, or Airplane Mode off and on.
Reboot your Wi-Fi router.
Make sure you have the most recent WhatsApp version from Google Play.
Check if your data is enabled.
So enjoy WhatsApp Web in your laptop and computer without any problem. However, we covered all possible reasons which are related to WhatsApp Web. but If you still facing any issue then please tell us via comments we provide a 100% wroking solution for you.