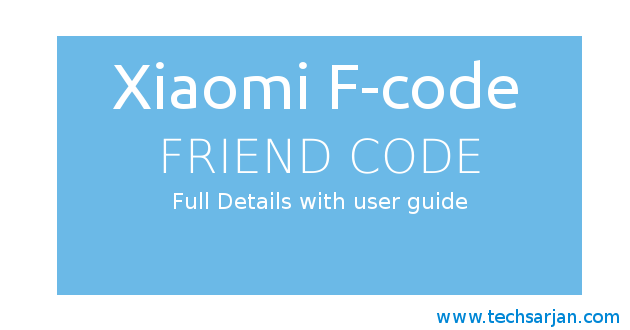 Hello MIUIers, hope you are doing well. Today we talk about Xiaomi's F-Code. Before F-code we Indians only hear about promo codes, offer codes, discount coupons etc. Now if we talk in Xiaomi's world then we can say F-Code means Friend Code. A person which have F-Code can easily buy any Xiaomi product before their flash sales. As you already know many users always stuck at Mi flash sale. They want to buy Xiaomi products but sadly they can't compete in the flash sale. Every time they are unlucky.  Even some users wait for long time to get their favorite Xiaomi product because every time Xiaomi phones go out of stock just after the starting the sale. Xiaomi flash sale stock out in less than 2-3 seconds. Sometimes they were gone just after the click. Many peoples still waiting for Redmi Note 4. Now Xiaomi introduced Redmi 4A & Redmi 4 both two mobiles have a huge demand in Indians. Now if you are thinking to buy these mobiles then F-code is helpful for you.
As we earlier said F-Code means Friend Code. If you contribute or participate in Xiaomi activities then you won the F-code and use it for buying your favorite Mi mobile.
What is F-Code?
Friend code. If you love Xiaomi's products then definitely you here about f-code. Lei Jun introduced this F-code method in Xiaomi's world for their beloved Mo Fans. As you know Xiaomi doesn't waste money on advertising. Mi fans are enough for product advertising. Why? Because we all know Xiaomi products always give good specifications with better build quality in the pocket friendly budget. Once a user uses these products he automatically becomes a fan of Xiaomi. After that, he always prompt Xiaomi products via verbally on social media. This is the reason Why Xiaomi products are more popular without any advertising. So if Mi fans are working for the company then definitely company need to do something for that users. Sorry, here we can't say user. Because in the Xiaomi world every user of Mi products called Mi Fans. So through the F-Code, you can buy your desired Xiaomi products without going long queue on flash sales.
How to Get F-code:
If you are thinking to buy your favorite Xiaomi product no matter which is Redmi Note 3, Redmi Note 4, Redmi 3s/Prime, Redmi 4 OR Redmi 4A. So if you have F-code then you can easily buy these mobiles. If you want to get F-code then you need to do something which is profitable for the company. like give reviews, share Mi products on social media, participate in Mi games, Contribute on MIUI forum etc. Don't think that you share some post of Mi India on your Facebook wall and now you are eligible for Xiaomi's F-code. First read all the offer terms if any offer is going on then you need to participate and perform your action according to offers. Maybe offer about to playing games on Mi official app OR maybe offer about to Mi products review, maybe a poster competition, Maybe tagline competition for the particular phone model etc. So all the offers run by Xiaomi on various platforms like Facebook page, Google plus Page, Xiaomi official Mi App, Xiaomi's MIUI forum etc.
So the question is how to know about them? For all these offers you need to subscribe all Xiaomi social channels where they announce all offers which are running and which schedule in next upcoming days. Once you follow Xiaomi on all Social channels then you automatically informed about latest f-code offers by notifications.
Xiaomi F-code – FAQs:
Q. Am I need a separate F-code for different Xiaomi products like Redmi 3s Prime & Redmi 4?
Ans. No, You can but any Xiaomi products which are available through F-code. There is no need to carry different F-codes for different Mi products.
Q. Can I Generate F-Code through any system or Browser extension?
Ans. No, You can't. F-code only provided by Xiaomi team.
Q. Can I use my F-code on Flipkart/Amazon/Snapdeal?
Ans. No, F-code is only valid on official Mi store.
Q. Is F-code which is provided by MIUI China forum, Worked on Mi India?
Ans. No, those F-codes only worked on Xiaomi mainland China website. If F-code provided by MIUI Global team then you can buy Mi product for Mi India store.
Q. Am I get a discount through the help of F-Code?
Ans. No, through the help of F-code you can only get buying priority. You can buy without any queue.
Q. Can I buy Xiaomi F-code? if yes then from where?
Ans. No, You can't buy F-codes, Xiaomi doesn't sell F-Codes.
Q. Can I sell My F-code?
Ans. This is up to you. Do what you want. Xiaomi gives you now you are the owner.
Q. Is F-code have an expiry date?
Ans. yes, Every F-code which is provided by Xiaomi has an expiration date. So please use F-code before expire.
Q. How to use Mi F-code?
Ans. Open that particular product page on Mi store. Here you see an F-code section. Click on that option. Now system asks for login. Log in with your Mi account. Now enter F-code and fill the captcha and press submit button. Voila !!! if your F-code is valid then system redirect you, to the checkout page. complete your order.
So Now enjoy Xiaomi products without experience any queue in flash sales. You can also win F-codes at Mi Home. Recently Xiaomi opens offline store in India. Here they run some activities you can go there and participate there. If you win then definitely they give some price or F-code for their products.
Enjoy Xiaomi services because
Always believe something wonderful is about to happen..