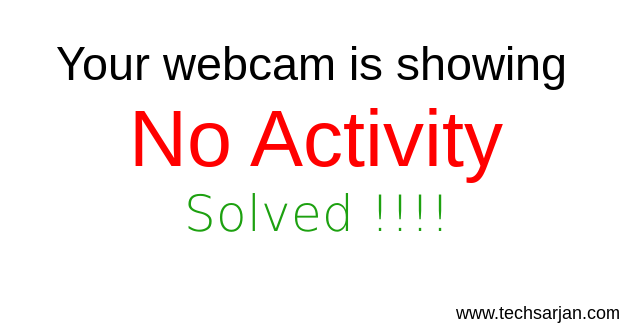 Hello users today we talk about a common webcam problems which occur on various video streaming/chatting sites like Skype web, Chatroulette, Omegle etc. In this Problem, your browser can't able to access system webcam/inbuilt camera. So you only see an error message on your cam screen  Your webcam is showing no activity. Don't worry about this problem you can easily solve this problem via following some easy steps.
This webcam activity problem mainly occurred because of outdated software which is installed on your computer. As you know your all useful software must be updated no matter you are using Windows or Linux. We need to update our installed software time to time. This webcam activity problem occurred because of outdated Adobe flash player OR you can also face this issue if your browser is too old no matter which is Google chrome or firefox/opera. You must be on the latest version of the browser which you are using.
Steps to Solve webcam no activity problem:
As we already discuss this problem occurs because of outdated software. So you need to update Adobe flash player in your system and make sure you are using the latest version of the browser Google Chrome/ Mozzila Firefox.

Open your browser and open https://get.adobe.com/flashplayer/
After successful download, you need to install in your system
Once successful install, check your browser update section.
If any browser update available then update your browser.
After this restart your system.
Now open your required site which you want to use for webcam like Skype web, Chatroulette, Omegle etc.
All set, Done.
Once you follow above steps then your Webcam no activity problem easily solved. These above steps only work if you are using Windows operating system like Windows XP, Windows 7,  Windows 8/8.1, Windows 10 etc. If you are using Linux then you need to install flash player manually on your system. No matter you are using Ubuntu/Linux Mint or Debian OS. You can also go for Synaptic package Manager where you can install Adobe Flash player via GUI method. Just search Adobe flash then you get software list choose flash player option and click on install.This is working solution. If you don't have enough data to download flash then you can you lite version of the particular site. I'm sure you heard about FB lite (Facebook lite) where you can enjoy all Facebook services in fewer data. In the same manner, You can also enjoy Chatroulette video chat with strangers on the lite version. Chatroulette launches a new lite website WebRTC version (limited functionality) which runs on the subdomain. Lite Chatroulette URL is https://basic.chatroulette.com/
So you can enjoy video chat/streaming without updating flash player on your system. This is working solution for your webcam no activity problem. So now it's easy to chat on Chatroulette because now your webcam problem solved.