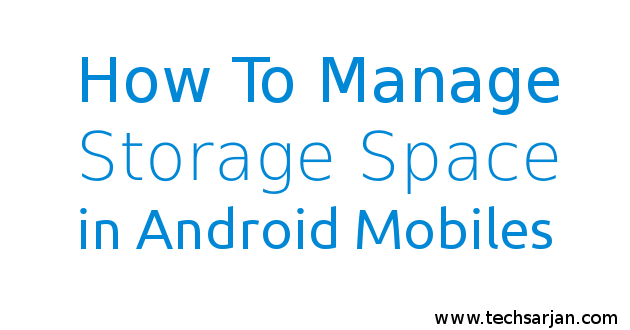 Recently I faced one of the worst situations anyone in this digital world could face. I had a notification on my notification panel which stated: "STORAGE SPACE IS RUNNING OUT." I was on a trip where I could not transfer my data to the laptop and I still had to click the good amount of pictures with pretty nice quality. I also wanted to shoot some good long videos but space was still a problem. So here we disucuss how to solve Storage problem in Android devices which is common for all Android versions like Android 6.0 Marshmallow, Android 7.0 Nougat etc. If you face this Storage problem in Xiaomi devices like Redmi 1S, Redmi 2, Redmi 3, Redmi 3s Prime, Redmi Note 4, Redmi Note 4G, Mi4, Mi Max etc then you can solve this issue via following this Article instrctions.
So What Did I Do?
Here are some of the measures you can take to solve this storage issue apart from getting a new Memory Card with more storage capacity, Duh!
Install ES File Explorer: Although it's still the most used File-Explorer, if you still don't have it then this should be your first step towards a well-managed storage in Android Device. After you have installed this app, start a quick scan of your storages. You will get a complete detailed analysis of which folder is eating up your space and with what type of data. You can delete the files & folders you think are useless and won't be of any use. Continue reading to find out what's useless.
What's Useless: There are some basic folders which are of no use but just store some data. "ANDROID" is one of them. Go to 'data' folder under 'Android' folder. There are some folders of Instagram, Facebook, Quora and Snapchat which include some useless data like the videos you played, photos you reacted on and games you have installed. Start a scan of this 'data' folder in ES Explorer and delete all the folders except that of YouTube, Google Maps, Saavn, Gaana or any other such apps which save their data offline.
Space you might free: Approximately 50-200 Mb.
Deleting Thumbnails: Open File-Explorer. There is a folder named .thumbnails in 'DCIM' folder. It's used for faster loading of photos. You can delete this folder whenever you want and it won't cause any damage except that the next time you load pictures, it will take a few seconds more 'once'. It will free around 200Mb of space which was of no use to you.
Note: If it is not visible in the File-Explorer, Select 'Show Hidden Files' option. Now .thumbnails folder will be visible.
Space you might free: Approximately 50-300 Mb.
CRAM: It is an Android Application for compressing photos to a very small size. Quality loss during compression is very minimal and we can't even differentiate between original and compressed picture. Only 300 pictures can be compressed under free version and you can buy a full unlocked version at approx. Rs.105.
PS: You can always clear its data and uninstall the application and then reinstall it to get unlimited CRAM options.
Space you might free: It all depends on how much you use this app. If you compress around1000 pictures of net size 1.5 GB, final size after compression net size would be around 600-800 Mb.
WhatsApp Data Management: WhatsApp folder takes up a lot of space depending upon your usage. What's best that you can do is you can delete a folder named "Databases". Extra Step: If you are in serious need of Storage then only follow this step. Go to "Media" then go to individual folders in there and delete "Sent" Folders from all the folders. These folder contains all the data that you have sent on WhatsApp which generally is of no use, But still if you want to do that, do it on your own risk.

Frank Advice: Regularly delete the chats which you don't want anymore. This would save a small fraction of space on a regular basis.

Video Compression: You can compress videos using various android apps and one of them which I tried and worked with maximum efficiency is VidCompact (

https://goo.gl/u3JzPi

). This will compress the videos to smaller size and will free up maximum space any method can.
Note: This will surely decrease the quality of the video and you won't feel the same. Although, you can compress videos a little bit and quality loss would be less (Like convert 720p to 480p or 480p to 360p).
Space you might free: For a video of 100 Mb 720p, after converting it to 480p, you would save around 60 Mb
Some Frank Advice:
Do not install any Virus Protection applications as Android doesn't need any such applications and practically none of them helps to detect the latest viruses.
Do not install any Battery Savers or Phone Cleaners as they can affect the battery usage.
If you use any data sharing applications like Share It, Xender or Zapya, keep the default storage 'External' as phone works more smoothly when it's Internal Storage has a free storage of around 1 GB.
Use Smart Kit. This app contains all the basic features like 'Calculator' 'Stop Watch' 'Compass' 'Flashlight' 'Notepad' 'Audio Trimming' 'Code Scanner' 'Abacus' 'Currency Converter' and many more. This app will help you uninstall many useless applications and thus resulting into free space.
I hope this has helped you to create some worthy space on your phone. If you liked this, you may also like Top 5 Utility Applications For Android. Thanks for reading.
Nowadays Storage problem in smartphones is common. If you need some space then these above instructions surely helpful for you. If you think your main space occupied by Misc data folder then you can also delete this Misc data.
Click here to know – How to Delete Misc data in Android Devices Xiaomi MIUI 8
So now you succeed to get free space in your Phone's Storage.