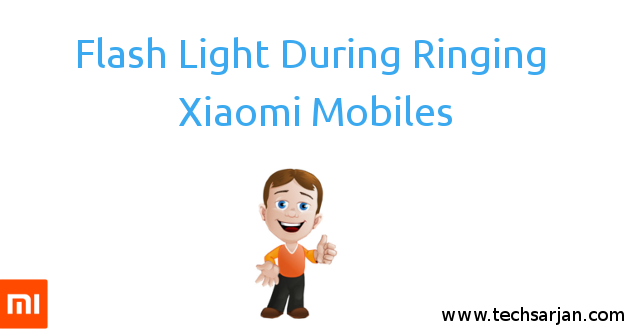 Hello MIUIers, hope you are doing well. Today we talk about MIUI Flash light function which helps you to attract your eyes when you receive a call from someone on your Mi phone. Once you enable this function then every time when you receive a call on your Xiaomi phone then back flash light also turned on/off while phone ringing.
This Flashlight function (Flash notification) available on all Xiaomi phones no matter which is Redmi 1s, Redmi 2, Redmi 2 Prime, Redmi 3s, Redmi 3s Prime, Redmi Note 3, Redmi 4A, Redmi Note 4, Redmi Note 4G, Redmi note 3, Mi 3, Mi 4, Mi 4i, Mi5, Mi 5plus, Mi Max, Mi Mix etc. This Flash call function worked on all MIUI versions. You can found this function in all latest MIUI versions like MIUI 7, MIUI 8 & surely get it on MIUI 9.
Steps to Enable Flash light notification on Xiaomi Phones:
You can easily activate this flash light function via following some easy steps. These steps are not too hard so don't worry about it. Enable this flash light service without facing any issue step by step.
Follow below steps to activate Flash Light While Ringing:
Go to Settings.
Tap on System Apps.
Tap on Phone Section.
Choose Incoming Call Settings.
Now Enable "Flash when ringing" option.
All Set, Done.
After following above steps your Xiaomi mobile ready for flash notification during phone ringing.
How to Disable Flash Light Notification on Xiaomi Phones:
If you don't like this function then you can disable this function via following above same steps. On step 5 your need to disable Flash when ringing option. After disabling this option your flash light function deactivated.
This flash light function works on all Xiaomi phones no matter which is Mi flagship device or Budget series Redmi. This service smoothly working on all Xiaomi phones.
Enjoy Xiaomi services because:
Always Believe, Something wonderful is about to happen.