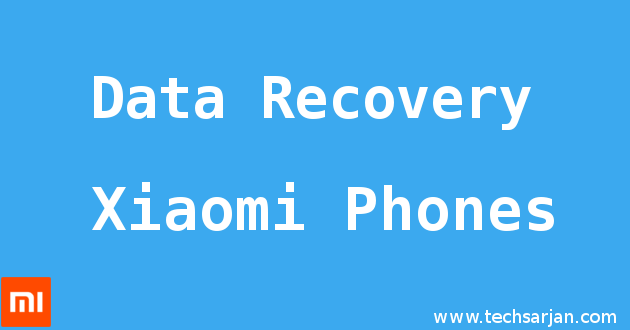 Hello MIUIers, hope you are doing well. Today we talk about Data recovery process in Xiaomi phones which are based on MIUI 7/8. If your important file or photo deleted accidently by you from your mi phone then this article surely helpful for you. Here we give an easy solution for data recovery step by step which perfectly working on your Xiaomi phone.
Data Recovery is a process where you recover your old data which is saved on phone / external storage. This data recovery process works on all Xiaomi mobiles no matter which is Redmi 1s, Redmi 2, Redmi 2 Prime, Redmi 3s, Redmi 3s Prime, Redmi Note 3, Redmi 4A, Redmi Note 4, Redmi Note 4G, Redmi note 3, Mi 3, Mi 4, Mi 4i, Mi5, Mi 5plus, Mi Max, Mi Mix etc. All Mi mobiles data easily recovered via these methods. We share both methods first one is open source means freely available there is no charges. You can easily recover your data via this free software. The Second method is paid, where you need to invest some money because you know "Free me kuch nahi milta dost". This second method is helpful for you when you can't able to recover via the first method.
Your important file deleted by you accidently then you can recover these files. These methods also helpful when you lost your files during MIUI update. There are higher chances during system update (MIUI update), you lost your important files. Mainly your hidden files affect because of system update. During MIUI system update which may be MIUI 8 or MIUI 9, you may be lost your favorite photos from hidden folder.
The photos which you hide via MIUI photo hidden function, are saved in encrypted format. So there is no chance to recover that files. but if your files deleted manually then you can recover those files easily from your Android mobile.
Steps to Recover files/photos from Xiaomi Mobile:
You can recover your desired data from your Android Xiaomi mobile via these two methods.
First Method:
In this method, you need a Linux based laptop/system. You can use any Linux distro for this purpose it may be Ubuntu, Linux Mint, Debian, Kali Linux etc. We recover our files via PhotoRec software package. You can download from here PhotoRec Download.
Edit 1 –  Now there is no need to use Linux for this purpose because PhotoRec available for windows os. You can use this software on any Windows machine like Windows XP, Windows 7, Windows 8 & Windows 10. Download from above given link.
Follow below steps to Recover Files from Xiaomi mobile:
Install PhotoRec software from above given link.
Connect your Mi phone in file transfer mode.
Launch PhotoRec software.
Once software detects your device then start recovery.
System starts scan process.
Now your all photos/files list on the desktop which is recovered via PhotoRec.
Export these photos on Computer storage.
All Set, Done.
After following above steps you can easily recover your important files which is deleted from your mobile.
Second Method:
If the first method won't work for you then you can try this alternate method, But here you need to pay a small amount.

Dr.Fone – Android Data Recovery
Thorugh the help of Dr. Fone software, you can easily recover all your photos/files which are lost due to mobile format accidently deleted by you.  This software gives you various options for data recovery with date range. Date range customization also available in this software. you can also recover your deleted phonebook contacts from the help of this software.
If your SD card/Phone formatted then please don't copy anything on this card/phone. Because is you copy new content on storage then there is no way to recover your lost data. So please don't insert anything on formatted sd card/phone. Through the above these two methods you can easily recover your formatted card data in an easy way via following simple steps.
If you use play store apps to recover your data and you won't able to get back your desired files then try these above methods instead of the searching Best data recovery app for Android. If you install these apps in your mobile then they occupied space in your phone memory. That space they occupy, won't be recoverable . So please don't install Playstore Apps and go with above described methods.