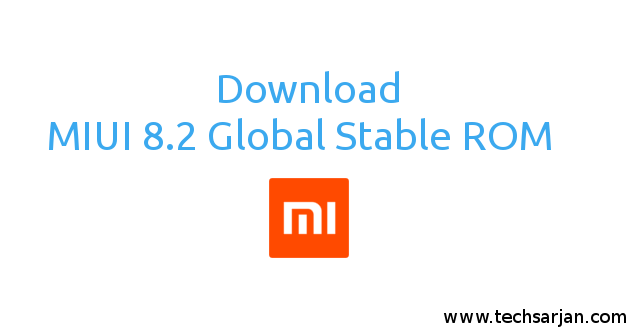 Hello MIUIers, hope you are doing well. As you know we all love updates, when we talk about MIUI, A line comes in our mind – "Something wonderful is about to happen" Because we get always better when we receive new updates in our Mi mobiles. MIUI developer ROM receive weekly updates while stable ROM get updates when new updates fully tested on Developer ROM. So if you want to download MIUI 8.2 global stable ROM for your Xiaomi device then you are the right palace. Here we share download link of MIUI 8.2 stable ROM which is totally free.
If you confused which ROM suitable for your device likeGloba Developer ROM, Global Stable ROM, China Developer ROM, China Stable ROM, Recovery ROM, Fastboot ROM – For all these Click to know about Various MIUI ROM versions.
Here we share MIUI 8.2 Global Stable ROM download link with install guides. Redmi 1s, Redmi 2, Redmi 2 Prime, Redmi 3s, Redmi 3s Prime, Redmi Note 3, Redmi 4A, Redmi Note 4, Redmi Note 4G, Redmi note 3, Mi 3, Mi 4, Mi 4i, Mi5, Mi 5plus, Mi Max, Mi Mix etc. we share All Mobiles MIUI 8.2 Stable ROM link.
What's new in MIUI 8.2 Stable ROM:
Lockscreen, Status Bar, Notification Bar
New – Swipe to delete Lockscreen notifications (11-18)
New – UI adjustments for toggles(12-15)
New – Battery saver toggle can be added to the Notification shade (12-15)
Optimization – Lock screen PINlayout (11-15)
Optimization – Changed icons forUSB charging and switching keyboards (12-01)
Optimization – Floating notifications won't appear in DND mode (12-13)
Fix – Notification shade issues during incoming call floating notifications (10-25)
Fix – Wi-Fi page made the device freeze when it was opened for the first time (11-07)
Fix – Notification shade issues(11-15)
Fix – Issues with opacity after using third party themes (11-15)
Fix – The first notification couldn't be removed by a swipe (11-29)
Fix – Landscape mode issues with third party themes (12-06)
Homescreen
New – Home screen settings added to the Settings (11-22)
Fix – Part of UI for deleting apps wasn't visible on light backgrounds (10-11)
Fix – Minor adjustments for animations in the Launcher (11-14)
VirusScan
New – Antivirus scans for the apps installed not from Google Play (11-02)
Download link of MIUI 8.2 Global Stable ROM with install guides:
If you are on MIUI 8 then soon you get an OTA update of MIUI 8.2, But if you still not receive OTA update then you can update your phone via MIUI Recovery ROM. Just download below MIUI recovery ROM of Global Stable 8.2 version and update your mobile via updater app. Here we also share Fastboot ROM link so you can flash your mobile via Mi flash tool.
Once you download your desired ROM then save in your phone storage and go to updater app and tap on three dots which exists on right side top. here you choose manual update and give ROM file path which you download recently. Make sure you download Recovery ROM for this process.
If you download Fastboot ROM then you need to flash ROM via a system which has Mi flash tool. For this purpose, you need to download Mi flash tool from the official site and install it in your system then follow particular steps. Here you found all things about flashing via Mi flash tool.
Enjoy Xiaomi services because:
Something wonderful is about to happen.