Hello MIUIers, hope you are doing well. Today we talk about auto power on/off function in Xiaomi phones. This feature very important for a particular user group. Whereas normal stock android user always searches an app on playstore, we MIUIers enjoys Xiaomi's customization on our Mi Mobiles.
Thorugh the help of Automatic power on/off function, you can schedule when your phone automatically shut down and automatically power ON in a predefined time slot. Schedule power on/off function easily used in Xiaomi MIUI OS. No matter which version currently you are using like MIUI 8 or MIUI 7. Both version support schedule power on/off. This function work on all Xiaomi mobiles no matter which you are using like Redmi 1S, Redmi 2 / Prime, Redmi 3S / Prime, Redmi note 3, Redmi note 4G, Mi 2, Mi 3, Mi 4, Mi 4i, Mi 5, Mi 5s plus etc.
Why  you need Auto power on/off function :
This depends on the person by person. Maybe a thing is more important for you but waste for others. Schedule power on/off in MIUI 7/8 in important for you if you are a too busy person. you always talk on your phone. Even you can't able to sleep because you get many calls from your clients or friends. you forgot to switch off your Xiaomi phone  and your clients call in the night. Here Xiaomi gives a solution no need to power off manually because suppose you power off the device when you go to sleep but you forgot to turn on the device in the morning then you miss important calls from peoples. Here Auto power on/off features fulfill your all requirements.
As a normal user, you can also schedule power on/off  once in a month because we know machines always work they don't wash up But for smoothly working they need to restart once in a particular time.
Steps to schedule auto power on/off in Xiaomi MIUI Phones :
As you know MIUI provides us an user-friendly UI. There are not too hard steps to schedule Power on/off. You can complete this task in simple steps.
Follow below steps to schedule power on/off in Xiaomi MIUI mobiles :
Open Security App. tap on Battery icon.
tap on setting icon which shows in right side top bar.
Now tap on Schedule power on/off function.
Here you set Power on time and power off time with repeat option.
All set. done.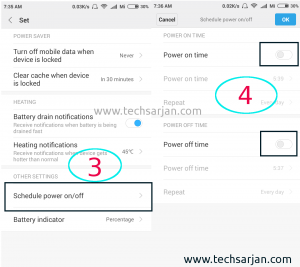 After following above steps you can easily schedule power on/off in your Xiaomi mi mobile.  I know what you are missing. Customization The word now which you are missing. how it possible Xiaomi does not give customization option. here you can Schedule when you want to turn on/off with day by day option. once in a week , weekends and you can set custom  option according to your need.
So now enjoy your smart life without remembering these small things. like before going to bed turn off your mobile. in the morning you need to remember turn on your mobile. Here Xiaomi gives you automatic power on/off service.
Enjoy Xiaomi services because:
Something wonderful is about to happen.