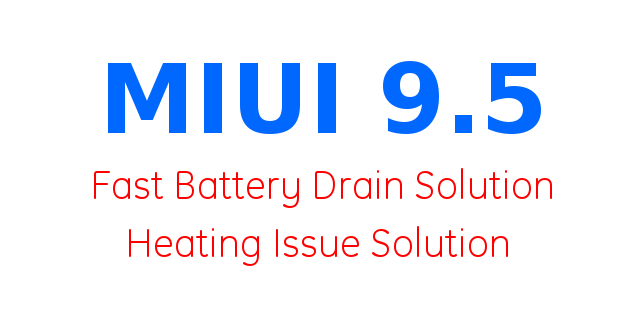 Hello MIUIers, hope you are doing well. Today we talk about Latest MIUI 9.5 update which recently pushed by Xiaomi on all latest mobiles. All Xiaomi mobiles including Redmi 2 Prime, Redmi Note 3, Redmi Note 4, Redmi Note 5/Pro, Redmi 3s Prime, Redmi 4, Redmi 5, Mi 4, Mi 5, Mi 6, Mi Mix, Mi Mix 2 etc receive latest MIUI 9.5 stable update via updater app.
Many new functions come with this update which is useful for all of us & many fixes also provided which solve various issues in our MIUI based mobiles. But you know if we got some benefits then another side we also got the downside. If you use new MIUI 9.5 then maybe you also face fast battery drain issue on your Redmi Mobile OR heating issue after MIUI 9.5 update in your Xiaomi Redmi Mobile.
Here we share some tricks so you can get better battery life even after MIUI 9.5 update. Don't need to downgrade MIUI version because of fast battery drain or heating issue. Here you can easily solve all these problems which you face in your Xiaomi Redmi Mobiles after MIUI 9.5 update.
Reasons for Fast Battery Drain in MIUI 9.5:
If you don't clear cache data after your mobile update then chances are high for fast battery drain. Even you also face lagging issue, heating issue so you need to clear all temp data, cache data with the help of security app.
In order to clear cache data in your Redmi Mobile, Just open security app and tap on cleaner option. Now some process starts on the mobile screen. See the bottom, here you get a button which says Cleanup text. Tap on this button now all your cache data clear in your Xiaomi Redmi Mobile.
Background App Activity:
This is the main reason for fast battery drain in your Xiaomi Redmi mobile because some apps automatically start in the background and access our internet as well as consume battery power which surely affects phone's battery performance. So here we learn how to force close all background apps in Xiaomi Redmi mobile and here we also learn how to check which app consuming more battery power and how to disable all those apps which are not usable and consuming battery power.
Case 1:
I Already remove the particular app from the autostart section. But still, the app starts in the background. How to solve? so I save my battery.
One thing we want to share with you. The auto start section does not prevent apps to start in the background. This is only for those apps which directly blame MIUI for disturbing there working. like they say MIUI security services won't permit to access device hardware etc. For example, You won't get Hike messages until you open the app. So you complain the Hike team for not receiving messages during lock screen. Now Hike team directly blame MIUI, they say this is custom OS you have, they preventing us to show messages etc etc. So in short, This auto start function only for these types app which blames MIUI to prevent autostart access.
So here, If you disable auto start permission via security app that does not mean you disable auto start for that app. If you really want to remove auto start permission from the particular app which consuming your more battery power then follow below steps.
Steps to Remove background start permission from Apps in MIUI:
First, launch that app which you want to disable like Jio4GVoice.
Now Open Security app. Scroll page and tap on Manage Apps.
Here you see that app showing with a green circle.
Now tap on this app.
Tap on other permissions, Here you get Start in background, Now disable this via tapping on this option.
Now after following above steps that particular app won't start in the background. But right now this app is running in your system. So if you also want to close right now then you need to follow these steps.
Force close any running app in MIUI:
Open Security app. Tap on manage apps.
Choose your required app which you want to force close.
Tap on that app name.
Now see the bottom, here you got force close option.
All Set, Done.
Now finally that app which is running the background, don't have auto start permission as well now that app forcefully close by you.
This is the main reason for battery drain in Xiaomi mobiles no matter which is Redmi 2 Prime, Redmi s, Redmi Note 3, Redmi Note 4, Redmi Note 5, Redmi Note 5 Pro, Redmi 4, Mi Mix 2 etc. So you can easily identify which app consuming more power. Just open Security app from the launcher and then Battery option. Here system analyzes the whole status of your mobile and shows you which app using more battery power. Now you can easily force close that app via above described method.
Heating Issue solution after MIUI 9.5 Update:
So if your mobile heat too much after MIUI 9.5 update then it mainly happens because of cache data. So please first clear the cache data after MIUI 9.5 update. You need to use security app which a have inbuilt cleaner functionality. Here you clear all the temp data in your Redmi mobile.
Please make sure your device GPS is turned off and only enable Mobile data when you need. Avoid phone usages during phone charging. Please also disable auto start app on your device.
If you still face any issue in your Redmi mobile then please contact us via comments we respond you with a solution.