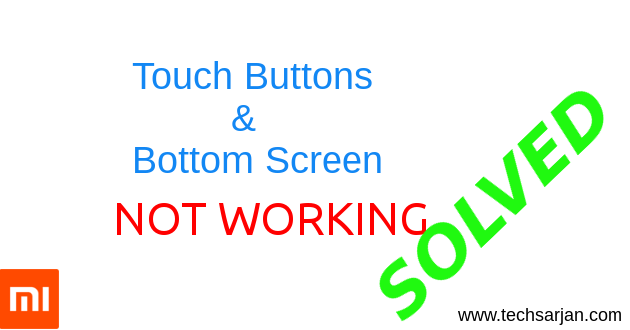 Hello MIUIers, hope you are doing well. Today we talk about a Xiaomi phone problem where user's phone can't operate through touch buttons and also bottom touch screen not working. All Capacitive buttons not working and also some parts of the bottom screen not working. So here we talk about all possible solution for this capacitive button problem and touch problem in Xiaomi problem. Also, discuss this is a hardware problem or software problem.
This is not necessary that it only happens in Redmi 2 mobile. This problem may occur in any Xiaomi mobile device no matter which is Redmi 1s, Redmi 2, Redmi 3, Redmi 3s/Prime, Redmi Note 3, Redmi Note 4, Redmi 4, Redmi 4A, Mi 3, Mi 4i, Mi 4, Mi 5, Mi 6 etc. It may happen on any MIUI version no matter which is MIUI 7, MIUI 8 or MIUI 9. You can easily solve this capacitive touch button problem where your touch button not working.
Problem Description:
In this problem your Xiaomi mobile touch button (Capacitive buttons) not working anymore. So you cannot able to go in recent menu, home screen, back option etc. all buttons no more working. and you may also face another touch screen problem where you can't touch some bottom screen option.In short, the bottom touch screen of mobile is totally dead. You can't able to touch any option which exists in the bottom area of the screen. So don't worry if you are facing this type of problem then you can solve this problem easily. The solution which we tell you are is working 100%.
Solution for Touch button problem & bottom screen problem in Xiaomi Phones:
Here we share all the possible ways to recover from this horrible situation where you can't do anything on your Xiaomi phone.  Before we start first to make sure you won't disable touch buttons from the status bar.
Check Button option in status bar toggles:
If you enable this button option then please disable this option and try your buttons perfectly working now.

TALK BACK effect:
Sometimes this problem happens because of talkback app. Just go to settings>>installed apps>>talk back application >>disable all updates. After that clear cache data via the help of security app and restart your device. then check touch button which is not working before now working smoothly.
Accessibility option:
May be you face these issues because of accessibility settings. For solution just Go to settings then additional settings then accessibility… And switch off all the options and see if it's working fine.
Fastboot ROM Flash:
If above options not working for you then Fastboot ROM flash surely helpful for you. Just Download Fastboot ROM which is suitable for your device and install MI flash tool, Go to in fastboot mode and flash fastboot ROM on your Device. For more details guide click here.
If you don't want to flash fastboot ROM then don't need to worry. Here we also share a temporary solution for this problem where you can easily rid off from this problem.
Temporary Solution for touch button & Bottom screen not working:
If you not able to flash fastboot ROM flash then you can also handle this problem via the help of some options which are good to use in this situation.
Touch Button Solution:
For touch button, you can use MIUI Quick Ball feature. Where all capacitive touch buttons available in the Quick ball like recent Apps button, Home button, back button etc. You can also customize these options according to your need. So now your button problems solved.
Bottom Screen not working – Solution:
If your Xiaomi Phone's bottom screen not working then it's a really terrible situation where you can do anything. Don't you can also rid off from this problem via the help of Rotate Screen Apps. Open play store app and download any Rotate screen app and rotate screen set to reverse Portrait option.
However, you can use any screen rotate app but we recommended  Screen rotation control by SJ Corp. Which is too good.  Here you can set your screen in any direction we recommended set to reverse portrait mode.
Note: If you are facing a problem in installing that screen app. Then please take a help of USB mouse. Just connect your computer mouse via OTG cable and install that app.
After following above suggestion you can easily operate your Xiaomi phone which is not working properly because of touch problem. These suggestions perfectly working on any Xiaomi device no matter which is Redmi series or Mi series including Redmi 2, Redmi 3, Redmi Note 3, Redmi note 4, Mi 4i,  Redmi 4, Redmi 4A.
Fastboot ROM Flash is the last solution to this problem. If still not solved then flash custom ROM like Lineage OS ROMs.  If the buttons not working after flashing Lineage ROM then surely this is a hardware problem. You need to replace screen to solve this problem. Here you can see Screen Price of Xiomi phones at service centers.
So now you bottom screen is perfectly resoponding which not responding when you facing this problem. your mobile touch function also works as well as like new.
Hope it helps.