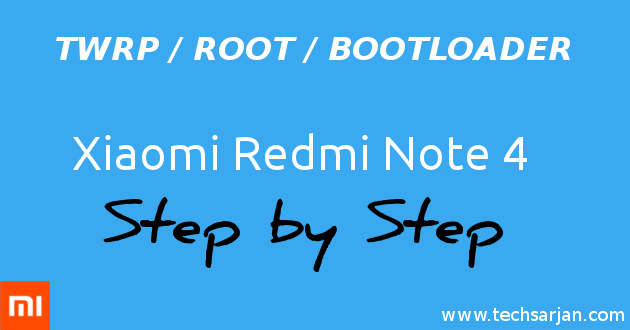 Hello MIUIers, hope you are doing well. Today we talk about root process of Xiaomi Redmi Note 4 mobile. here we tell about the whole rooting process in an easy way with step by step guide. If you are thinking to root your Redmi Note 4 then This article is surely helpful for you.
You can root your favorite Mi Redmi Note 4 mobile via several ways like through the help of the third-party app, with your computer/laptop or Without your computer / Laptop. Its all depend on you which way you choose.
Root is harmful or not. This is a big question. Do you really need a rooted device? Why? ask yourself, because Xiaomi MIUI 7/8 give more customization options than stock Android. You always get more in MIUI environment. Click here to know more about MIUI features. MIUI gives all features like dual app, app hide, second space, guest mode, child lock, message hide, file hide, data encryption, mi cloud, find my phone etc.
After reading miui features may be you decide to not rooting your phone. But we understand you won't like limitations So we share steps to root your Xiaomi Redmi 4 in an easy way.
As of now, here two ways available for rooting.
First Way – Kingo Root App:
Through the help of Kingo Root App. This app helps you to root your phone. Just install this app in your Redmi Note 4 and Tap on Root button after some time a message appears on your mobile screen which says Root process done successfully.  This is the easiest way of rooting your Mobile. However, we always advise don't root snapdragon based mobiles via Kingo Root App.  This may occur some problems after a system update.
Second Way – TWRP Recovery & Super user (su.zip) Installation:
In this way, We root our Redmi Note 4 Mobile via flashing TWRP recovery in our mobile. Why we use TWRP recovery for the rooting process? Because TWRP is the best recovery rather then Mi Recovery & CWM recovery.  through the help of TWRP recovery, you can easily flash superuser.zip file on your Redmi Note 4.
First of all, we need to unlock the bootloader of Redmi Note 4. Why do we need to unlock? Because nowadays Xiaomi more concentrate on User's data privacy & security. So they lock the bootloader, Because of locked bootloader, no one can flash a custom ROM on your device. That's why they lock bootloader in all new Xiaomi phones.
For unlocking bootloader, you need to raise a request at Xiaomi website. Where you must tell them a valid reason for unlocking. In 7-8 days you get a message from Xiaomi that your unlocking application is approved. Now you unlock your device. Make sure you use same Mi account during unlocking which you use when you raise your unlocking request.
Click here for bootloader unlock guide – step by step (with images)
Once you unlock your device bootloader then you can root your Redmi Note 4 easily. Here you need only 3 files for the whole rooting process.
TWRP Recovery for Xiaomi Redmi Note 4 – Click here to Download
Super user APK for Xiaomi Redmi Note 4 (su.zip) – Click here to Download
Official Xiaomi Mi flash tool OR ADB drivers for Xiaomi Redmi Note 4
Click here for Mi Flash tool,   Click here for download ADB Drivers
Installation Process of TWRP Recovery in Xaiomi Redmi Note 4 – Easy Steps:
You need ADB drivers for TWRP installation in Redmi Note 4. As we earlier said you need to download ADB drivers OR Mi flash tool.
If you download Mi Flash tool then you need to go C Drive -> Xiaomi -> XiaoMiFlash -> Source -> ThirdParty-> Google -> Android here you get ADB drivers automatically installed with Mi flash tool in your system. Now you need to move TWRP.img  file which downloaded from above given link,
If you are download ADB drivers then you must install ADB drivers. For ADB drivers first, extract downloaded file and fine command.bat file. double click on this file. Some commands run automatically run.  Now move TWRP.img in ADB folder where you extract.
Now right click on fastboot.exe file with pressing the shift key. Now you get an option in right click menu where you find run with Administrator privilege. Now a command window open here you type to check your mobile device is successfully connected with system or not. Before this step, you need to enable USB debugging on your phone. For USB debugging option in Xiaomi Redmi Note 4 – go to Settings > About Device > Tap on Build Number 7 times. Return to Settings > Developer options > Enable USB Debugging
Now type command in terminal which opened by you via right click on fastboot.exe
Note: Turn on your phone in Fastboot mode and after that, attach with the system via USB cable. For more details click here
fastboot devices

fastboot flash recovery TWRP.img
Now you successfully installed TWRP in your Redmi Note 4.
Steps to ROOT Xiaomi Redmi Note 4:
Download Super User (SuperSU.zip) file from above given link.
Boot into TWRP Recovery (Press and hold Volume Up and power button).
Choose install option. and give the super user zip file path.
Installation start. after some time you get a success message.
Now Clear Dalvik cache and Cache.
All set, Done. Restart your device.
After following above steps your device now rooted. You can use any root checker to check your Xiaomi Redmi Note 4 root status.
Enjoy Xiaomi services because:
Something wonderful is about to happen.