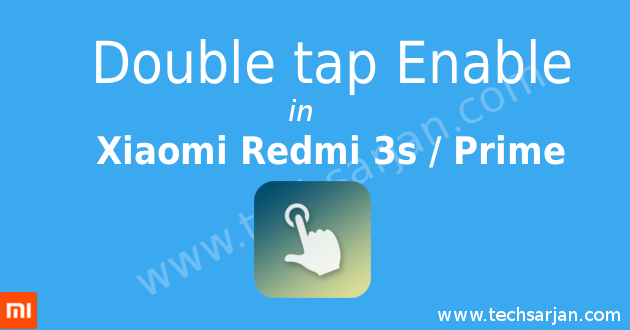 Hello MIUIers, hope you are doing well. Today we talk about Double tap feature where you can ON your phones via putting your finger two times on screen same process for if you want to lock your device again. This is a most awaited feature in Xiaomi phones. However, Mi 4c already have this double tap feature.
If you are using Xiaomi Redmi 3s / Prime which has MIUI 8 then you can easily get this feature on your phone. Is this double tap feature officially provided by Xiaomi miui team? No, As of now Xiaomi developer team working on this. Soon you get the official update. After getting update through OTA, you can enjoy Double tap feature in your favorite Mi phone.
Is root required to enable Double tab feature in my 3s phone ?
No, You can easily implement this Double tap (DT2W feature)  without root.
Step to Enable Double tap feature in Xiaomi Redmi 3s / Prime:
As we already described this feature is in under development. So you can't enjoy official double tap. But you can go with third party apps, Where you can implement Double tap feature in an easy way. Here we share few apps link some apps are paid. means double tap feature available in their prime version. But if you don't want to pay then you can search via app name on google, You surely found cracked version of the particular app. However, we recommend only install apps from play store.
Third Party Apps for Double tap wake up for Xiaomi Redmi 3s / Prime:
You can try any app from above given list for double tap feature in your favorite Xiaomi device.
Why Double tap feature is not available officially in Xiaomi Redmi 3s / Prime ?
Ans. As we already said, The Double tap is a kernel feature Xiaomi already working on it. Soon you get this option by default in MIUI.
Once you officially get this double tap option in MIUI then you can enable this option via Going to Setting. Then Choose display setting. Now you see Double tap screen to wake option in System section. Here you can enable your desired Double tap feature in Redmi 3s Prime.
EDIT 1:
Now you can enable double tap feature without help of any third part app. Just Go to settings -> Display -> Enable Double tap wakeup function.
Enjoy Xiaomi services because:
Something wonderful is about to happen.