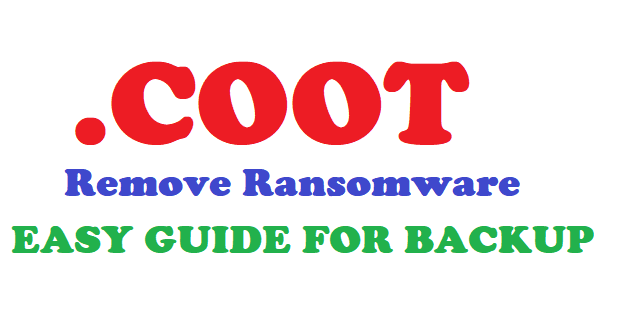 Hello Users, Hope you are doing well. But if you are on this page then i am sure your PC/Laptop infected with .COOT Ransomware  and you looking for a working solution which helps you to get all your original files which encrypted by COOT Ransomware virus.
First I want to tell you about COOT Ransomware virus. This Ransomware  virus come in your system and then automatically set in your startup programs. Now when you start your computer/laptop then this virus program start in background. Now he start to encrypt all your files with strong 256 bit encryption method. During encryption they generate a salt key which use during encryption work. Now attacker save this salt key to his own server OR we can say virus script send salt key to attacker with system id. Now after the encryption ransomware left a readme.txt file which shows your system id and they ask for the money. They claim, If you pay them then they provide the salt key and a decryption tool where you can easily get all your files back. We highly recommend please don't pay them, there is no guarantee. May be they demand more money once you paid. So don't pay.
Is it possible to Decrypt COOT Files?
As of now, there is no possibility to decrypt .COOT infected files. because this is new ransomware malware which recently comes in the industry. Please wait for some time until antivirus companies make the decryption tool for this coot encryption. If your system not connect to the internet after attack they possibly you files may recoverable because in this method they use local salt keys which are predefined. But if you are still online after attack then can't do anything. there is less chances for recover.
How to Remove COOT Virus ?
Coot is not  a virus, This is just a file name which encrypted by ransomware program. So you can easily copy a coot file in other computer / laptop but you can't open that file until you decrypt that file. For remove coot virus you need a good  antivirus software which can detect this ransomware malware and remove this program from system.
Is it possible to recover files after coot virus attack?
No, you can't recover your file. Just forma the computer and reinstall the windows OS. and make sure you install a good antivirus in your computer / Laptop. Copy all .COOT files in a hard disk and wait for some time. Once Antivirus companies launch .COOT decryption tool then use that tool and get your files back. until then use back if you have.
Is System Format really required to remove .COOT Virus?
No, If you have good antivirus then you don't need to format your system, But if you have good antivirus then how your system get affected?
Please don't pay to hackers and wait for the decryption tool which introduced by the antivirus companies. Always use a licensed software. don't download from other sites. Only use official website to download software.