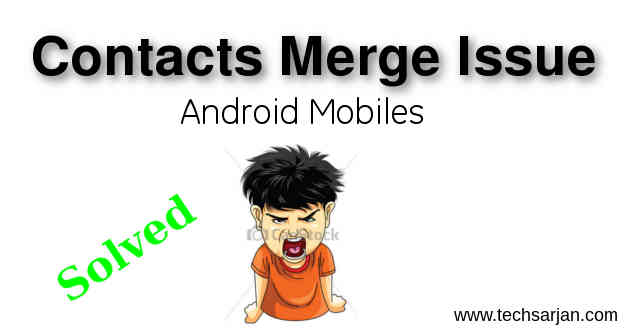 Hello Android users, Hope you are doing well. Today we talk about Contact duplicate issue which recently occurs on all Android mobiles which updated in Marshmallow or Nougat. In this problem, one contacts show many times in phonebook and once you merge these contacts then all shit happens. Now your contacts merge with each other. Person 1 contact number show in person 2 name. and person 2 shows in persons and list goes on. So This is a varied problem and needs to sort out as soon as because we need contacts daily basis. Here we share a step by step guide for handling this contact merge problem in latest Android after update with easy steps.
If you are using any stock Android mobile which running on Android marshmallow or Nougat will face this problem. No matter which OEM phone you use, This issue may occur on any mobile like Samsung, Huawei, OnePlus, Lenovo, Xiaomi Mi A1, Micromax, Intex, Oppo, Vivo etc. Any Android device which recently receives update then maybe that device face this issue.
Solve Duplicate contact issue in Android Marshmallow / Nougat:
If your contacts show multiple times then you need to sort out this problem in an easy way. Here we suggest you just open Google Contacts via your desktop or laptop and merge your contacts there and then see your mobile make sure you only enable google contacts in your phonebook. If you merge your contact by mistake via your mobile then maybe your face Contacts merge problem. Don't worry you can easily solve this contact merge issue in your Android mobile no matter which is Google pixel, Samsung Note 8, Samsung Note 8, Samsung Galaxy S7, Oppo F3, OnePlus 3/3T/5, Nokia etc. You can solve this issue with the help of merge contact app.
Steps to solve Merge Contacts Problem in Android :
If you recently updated your device and shift to Marshmallow / Nougat / Oreo then you may face this issue. Here we solve this Contact merge problem solved by a third party app called Contact merge handling APK (Contact corrector App). You need to download this app and install on your Android device. then follow below described steps.
Follow below steps to solve Contact merged problem:
Download Contacts merge handling APK from here.
Now extract zip file and install the app.
Launch this  Contact corrector App
Now tap on Check option.
If wrong data found then tap on the Correct button.
Now wrong data cleared by the app.
All set, Done.
After following these steps your contacts wrong number problem easily solved. This problem mainly occurred because of WhatsApp Contacts ad TrueCaller App.
If your problem still present then you can try this.
Backup your WhatsApp Chat history and then Reinstall WhatsApp. and this merge issue again occurs then you can try WhatsApp contact sync disable. For this go to setting – sync – disable Whatsapp sync
Same steps do with TrueCaller App.
If you are using Xiaomi Mi A1 mobile. Then this solution also worked for you Please give a try.
If you still face this Contact wrong data problem then please tell us via the comment section.