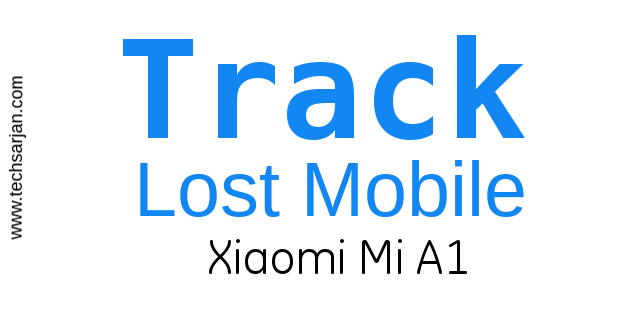 Hello Xiaomi users, Today we talk about tracking process of Xiaomi Mi A1. We all know how we get tensioned when we lost our Android phone. We understand that phone is stolen or theft by someone but the data which phone have is more important for us. So anyhow we want to delete the data which is stored on our phone like our photos, personal videos, contacts, notes, calendar schedules etc. So after the phone was stolen we want to track our Xiaomi Mi A1 mobile and also want to delete all data from the phone. So here, In this article, we will help you to guide how to track your lost Xiaomi Mi A1 mobile and also share a trick to erase all data on the phone.
You can easily track your lost Xiaomi Mi A1 mobile through the help of internet. As you know, Google is too smart then all of us. That's why Google also provide a mobile tracking facility in Android based Xiaomi Mi A1 mobile. So if you lost your Mi A1 mobile then don't need to worry. You can track your mobile easily. Tracking facility is provided by Google device manager.
Primary conditions to track your lost mobile:
As you know every service provided in terms and conditions. Here also some conditions for tracking your Xioami Mi A1.
Your Mi A1 mobile need to be turned ON during tracking.
Your Mi A1 mobile must be connected with a working internet connection, No matter which is Mobile data net or any other WiFi Internet.
You must have a Google account on your Mi A1 Mobile.
If above conditions not fulfilled in your case then you won't able track your mobile via Google Find my device service. Here no one can't do anything. You just need to wait when theft turned ON your mobile and then you can track.
How can I track lost Xiaomi Mi A1 mobile with the help of IMEI number:
Yes, this is another way to track your lost mobile. But if you want to track your lost Mi A1 mobile then you need to take help from the network operator and in this case Network operator won't help you until you register a police complaint (FIR) in your nearest police station. So if you want to track your mobile via IMEI number then please visit your nearest Police station with your phone original invoice copy. Hope they register your complaint and worked on it. If they do not register your phone stolen complaint then you can try online FIR services or E-Mitra services. If they logged your FIR then surely you get your stolen phone but can't say when maybe 1 week or 1 month or 1 year. But we sure you get your phone back in your hand.
Steps to track lost Xiaomi Mi A1 mobile:
If you fulfilled above required conditions then you can track your Xiaomi Mi A1 mobile on the google map easily. Don't need to follow complex steps to track your Android Nougat/ Oreo phone just follow below instructions.
Steps to track Xiaomi Mi A1 mobile on Google Map through Internet:

Open a web browser on your laptop / Computer/mobile.
Now type in address bar https://www.google.com/android/find?hl=en-GB or Click here.
Now login with same email id which you used on your Android mobile.
Now here you see a device list which associated with your Google id.
Choose your desired device and now you see a location pointer on the map screen.
All set, Done. Now you seeing your mobile location on the map.
After following above steps you can easily track your lost Xiaomi Mi A1 mobile. These steps work on all Android versions no matter your Mi A1 running on Marshmallow, Nougat OR Oreo.
Here you have two more options when you tracked your phone.
You can play sound on your phone even your phone in silent mode.
Enable lock & Erase all your data.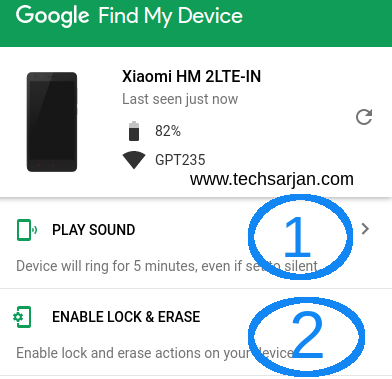 This second function more important for those users who cares his personal data more than their mobile. So if you have any sensitive data on your phone then this second function is really helpful for you. Just tap on this option and now your phone fully erased and locked no one can do anything on your phone.
Is someone can use my Xiaomi Mi A1mbile after I lost?
Yes, If the next person is really a techy guy then he can use your phone without any fear. It depends on who the person which theft your phone. This is not possible in other Mi phones because nowadays Xiaomi phones come with a locked bootloader and you need to take permission in order unlock your bootloader. But Xiaomi Mi A1 mobile is totally based on Stock Android not MIUI which fully handled by Google so then locked bootloader but which is easily unlocked by command line.
Hope this article will help you to track your mobile. If you still unable to track your mobile then please tell us via comment sections we will help you to track your Mi A1 mobile.