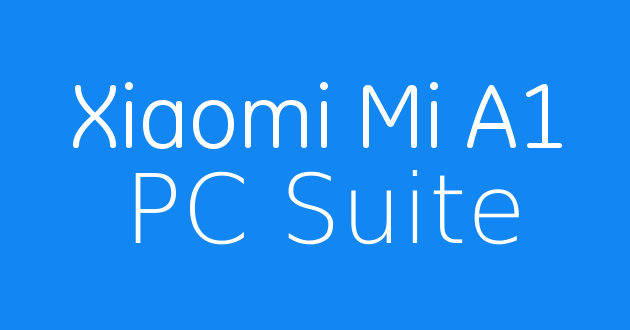 Hello Xiaomi Users, Today we talk about Xiaomi Mi A1 mobile PC suite which you can download and access Android Nougat/Oreo services via your computer/Laptop. Here we share a working PC suite link which fully worked with Xiaomi Mi A1 mobile. So if you are looking for an official Mi PC Suite for Xiaomi Mi A1 Mobile then you are at right palace. You can easily download Xiaomi PC Suite for Mi A1 mobile which is based on stock Android and be running on Nougat which soon gets Oreo Update because all updates handled by Google.
Through the help Mi PC Suite you can easily read your messages via PC Suite you can reply on messages via Xiaomi PC Suite. You can open your phone's phonebook in the system and can easily copy all contacts to make a backup. You can also access Phone notes and call history. Even in the Xiaomi mobiles, you can access computer system internet in the Xiaomi mobile via a USB cable. In Short, you can easily use your PC internet in your Mi A1 mobile.
Download link for Mi PC Suite for Mi A1:
As you know Mi A1 mobile is based on stock Android, So Xiaomi needs to change their PC suite which is now only suitable for MIUI but soon this PC suite support Mi A1 mobile. You can download latest Mi A1 PC Suite which is fully worked with Stock Android.
http://pcsuite.mi.com/
Copy the above URL and open in any browser. Now you see a webpage appears on the screen. Click on Download Now button. Now you see a setup file start downloading in your system.
Steps to Install Mi PC Suite in Xiaomi Mi A1 mobile:

To install Mi PC Suite on your system/computer you need a setup file of Mi PC Suite. First, download a setup file of Mi PC suite, Download link we already shared in above paragraph. Once you download PC Suite setup file then we need to install in our computer/laptop. Your system must be running on Windows OS like Windows 7, Windows 8 or Windows 10. Right now Mi PC Suite won't work on Linux like Ubuntu or Debian.  So now just do double click on the setup file. An Installation wizard appears on the screen. follow instructions and click on next. Click on next next until PC Suite installed in your system. Once Mi PC Suite installed in your system you need to restart your system. After rebooting the system you can connect your Mi A1 mobile to the system via USB cable and now enjoy all PC suite service which is provided by Google.
This PC Suite also work on all other Xiaomi device which is based on Redmi series or Mi Series no matter which is Redmi 2, Redmi 3, Redmi 3s /Prime, Redmi 4, Redmi 4A,  Redmi Note 4G, Redmi Note 3, Redmi Note 4, Mi 3, Mi 4, Mi 5, Mi 6, Mi Mix, Mi Max, Mi Max 2 etc.