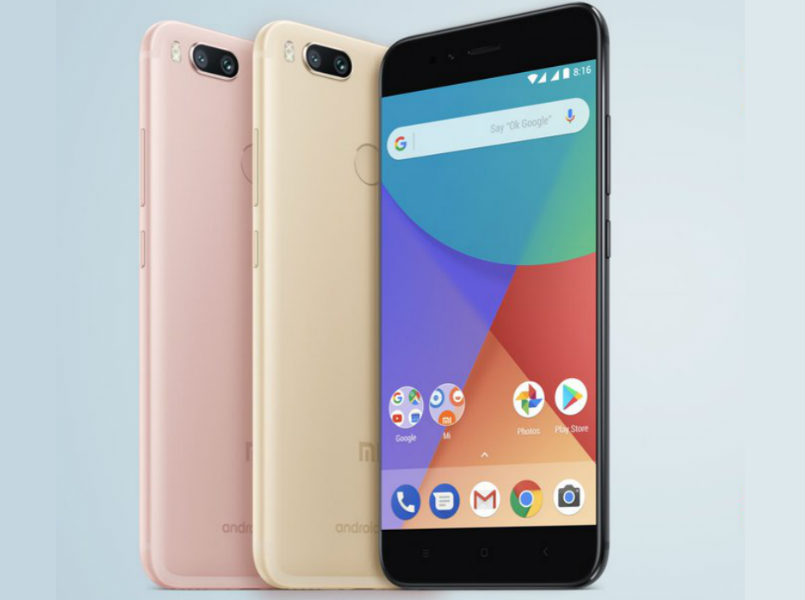 Hello MIUIers, hope you are doing well. Unfortunately, we can't say MIUIers now because this time Xiaomi comes with Stock Android where you can't enjoy MIUI features on your phone. Yes, we talking about Xiaomi's new camera flagship device Mi A1 which is manufactured & designed by Xiaomi and powered by Google. Mi A1 introduced in Google's Android one program where Google take responsibility for its future updates. You get all updates for next two years.
Mi A1 comes with 4GB RAM and 64 GB Internal memory which is expandable to 128 GB via external SD card. If you are using SD card in Mi A1 then you can't use dual sim because Mi A1 have a hybrid sim slot, where you can only use SIM+SIM or SIM+SD Card. Mi A1 power by Octa-core Snapdragon 625 processor (2.0GHz). As you Xiaomi introduced this device with a name of Camera flagship so in short Mi A1 have 2 back cameras both 12MP 1.25μm f/2.2 and have a front camera 5MP 1.12μm, f/2. Mi A1 support 2x Optical zoom with PDAF phase focus & HDR adjustment. Xiaomi's new Mi A1 have 3080mAh powered battery with USB Type-C charging port. Mi A1 comes with perfect screen size 13.5mm (5.5) LTPS FHD display with 403 PPI & 1920 x 1080 resolution. Mi A1 is ready for your Jio network because of its VoLTE ready.
If you are thinking whats the difference between normal Mi phone and Mi A1. then here we want to clear some doubts like Mi A1 also manufactured & designed by Xiaomi team. Here you only get the difference in software segment. In Mi A1 you get stock Android where as you get MIUI in other Mi phones. We want to tell you Mi phones are so popular because of MIUI features and design. But if you are a Stock lover then surely Mi A1 is for you. In Mi A1 Xiaomi only tweaks its camera rest all of the features of stock Android are same. You can enjoy all Google services out of the box like Google Photos, Google Play Music, Google Assistant etc. But you can't able to use Mi services like Mi Cloud, File hidden, File encryption, Message hide, Pattern, Mi Message, Call recorder etc. So in short, You cannot use Mi services on Android One.
Price: If we talk about the price of Mi A1 then this time Xiaomi won't able to happy its fans. Because Price of Mi A1 should be in the 11-12k range but Xiaomi introduced Mi A1 in Rs. 14999/- only.
Flash Sale Date and Availability: Xiaomi's new phone Mi A1 is only available on Flipkart and official Mi Store. If you want to buy offline then Mi A1 available on Mi Homes and many retail chains. Soon this device available on the retail shop where you can buy this device easily by paying Rs. 500/- extra. As of now, Mi A1 is not available on Amazon and Snapdeal. So if you thinking to buy Mi A1 from Amazon then please wait for some time may be this mobile available on Amazon soon. But Snapdeal,  there is no chance. Snapdeal dying soon.
Next Flash Sale Date of Mi A1:
Xiaomi new phone Mi A1 selling starting soon. First sell start on 12 Sep 2017 12 pm.
Xiaomi Mi A1 is the best choice then moto G5 Plus if you are a stock Android lover.
If you are thinking to buy this device via flash sale extensions then you can use any flash sale buy extension which is freely available on Chrome extension store. Soon we also share Quick buy plugin which helps you to buy Mi A1 in flash sales.
If you are thinking flash sale extensions really works? then you are on right way. Think about it.
FAQs:
Q. Is Mi A1 support OTG?
Ans. yes, Mi A1 support OTG. you can connect your Pendrive, mouse, keyboard or any other usb device with Mi A1.
Q. Can I control my TV/AC via Mi A1?
Ans. Yes, Mi A1 have IR blaster you can control all your devices.
Q. Is My Jio SIM Works in Mi A1?
Ans. yes, Mi A1 support VoLTE so you can enjoy VoLTE calling in your Mi A1 with jio 4G net.
Q. Can I use 2SIM + SD card same time in Mi A1?
Ans. No. But you can do this via Hybrid SIM Adapter.
Q. Can I use Mi Cloud and Mi Message in Mi A1?
Ans. No, you can not use these services because Mi A1 comes with Stock Android not MIUI. you can go with Mi 5x.
Q. Does Mi A1 come with locked bootloader?
Ans. Yes
Q. Is Mi A1 is best than Redmi Note 4?
Ans. Is totally depends on you, what you need.
Q. When Mi A1 openly available without a flash sale?
Ans. Soon this mobile available on all retail shop, wait for some time.