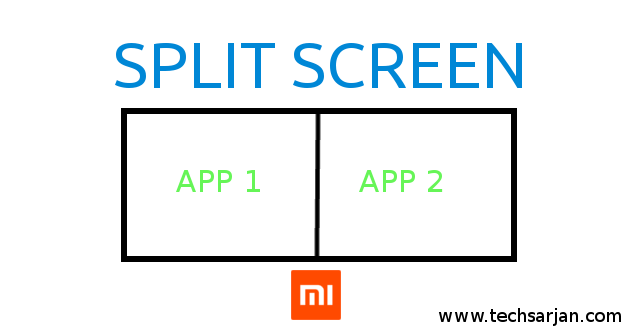 Hello MIUIers, hope you are doing well. Today we talk about most awaited feature in MIUI, Yes we are talking about split screen function which is introduced by MIUI team for Xiaomi devices. Here we discuss what is split screen function? how to use in Xiaomi mobiles? Can I use Split screen function in Redmi mobiles or Mi mobile? Is Split screen only available for Mi Max mobile series? These type of questions surely running in your head. Let's talk about these questions with answers.
What is Split Screen Function?
Through the help of this function, you can run two apps at the same time in your Xiaomi device. Means there is no need to minimize particular app or switch the app to do your task. You can run any two apps same time in your device.
How to activate Split Screen function in Xiaomi devices:
Enabling Split screen function is easy in Xiaomi Redmi & mi mobiles. For Split screen function follow below instruction for
Follow below instruction to split screen enable in Xiaomi MIUI devices (Redmi & Mi Mobiles):
Tap on menu Key button and go to Recent Apps section.
Tap on 'Split Screen Mode' from the top left the screen.
Choose the app you want to split from the recent apps, then drag it onto the upper part.
All set, Done.
After following above steps you can enjoy Spilt screen function in your Xiaomi device.
How to exit split screen in Xiaomi mobiles:
You can easily quit split screen function in your Xiaomi device. You just need to follow some easy steps.
Follow below steps to disable split screen function in Xiaomi Redmi & Mi mobiles:
Tap on menu Key button and go to Recent Apps section.
Here you see an 'Exit Split Screen' option at top screen.
tap on 'Exit Split Screen' button.
All set, Done.
After following above steps you are out from the split screen mode. Enjoy your old app environment for apps.
Compatibility Issue for MIUI Apps:
Not all MIUI apps working with split screen function. Some are working some are not. Developers are trying to best. soon you enjoy all MIUI apps on split screen function.
Games Compatibility on split screen function Xiaomi:
This totally depends on Game developer if they write their code which is suitable for the Split screen than the particular game app working on split screen without any issue. However we can forcefully run any app on split screen mode via Developer option: Enable "Force apps to be resizeable", then reboot the device. But we don't recommend because its developers feature not for normal user. You may face other issues during using split screen if you use via developer mode.
Is Split screen function only available for Xiaomi Mi Max2:
Yes, as of now this function only available for Xiaomi's new device Mi Max 2. But MIUI developers working hard to provide this feature in other Mi mobiles like Redmi 1s, Redmi 2 /Prime, Redmi 3s /Prime, Redmi Note 3, Redmi Note 4, Mi 3, Mi 4, Mi 5, Mi 6, Mi pad etc. Soon you get Split screen feature on almost all devices which have the big screen at least more than 4.7″. because you know in the split screen, two apps run on the same screen so screen size must be big for better user experience.
When split screen function available for Redmi Mobiles:
As we earlier said, soon you get this feature in your redmi mobile. wait for some time.