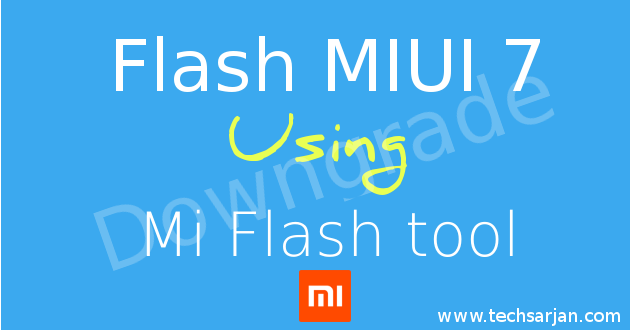 Hello MIUIers, hope you are doing well. Today we discuss Fastboot ROM flashing in Xiaomi Redmi Note 3 & Redmi 3s Prime. Both devices are awesome within their price segment. to know more about Redmi note 3 – Click here. For Redmi 3s & 3s Prime – Click here. As you know MIUI 8 Already rolled out by Xiaomi MIUI team. Both MIUI 8 version, Stable & developer released for approximate all the Mi devices. Few devices not supported Second space and dual app functionality – Click here to know more. All Mi fans enjoying MIUI 8. But few users disappointed after update MIUI 8 on their devices. They said various issue in MIUI 8 like Galley Issue, Whatsapp contact problem, heat problem, Battery drain problem, power consume problem, not charge problem etc etc. But trust me MIUI 8 one of the best OS in Android mobiles. If you have issues in MIUI 8 then click here for the solution.
However, if you still not convinced then you are free to downgrade your MIUI version from MIUI 8 to MIUI 7. If you want to go back then there are two ways.
First Way : This is an easy way. You can flash MIUI 7 using updater App. Click here to process.
Second Way : If you face package verify error in first way then you follow this way. Please follow below instructions to rollback MIUI 7 using MI flash tool.
MIUI 7 Fastboot ROM links for Redmi Note 3 & 3s Prime :
Redmi Note 3 (SD Qualcomm Version) Fastboot ROM based on MIUI 7 Global Stable – Click here to download
Click here for Google Drive link
Redmi 3s Prime Fastboot ROM based on MIUI 7 – Click here to Download
Click here for Google Drive link
Necessary things before flashing MIUI 7 :
Make sure you downloaded MIUI 7 fastboot ROM for your Mi device from the above-given link.
You must have windows based  system / Laptop (Windows 7/8/10).
You must installed Mi Flash tool in your system – Click here to Download Mi Flash tool.
A working data cable.
Your devices should be charged more than 60%.
Steps to flash MIUI 7 in Redmi Note 3 OR 3s Prime :
After reading above instructions might be you think. This is the too complex task. Don't worry dude. its not hard. you can perform  MIUI 7 flash in an easy way using this guide instructions. Here we use Mi flash tool to flashing our Xiaomi Mobile. The process is simple just follow below steps carefully. Make sure you follow all instruction step by step. if you miss any step then result will be brick your device, Maybe you face soft brick, hard brick OR bootloop. So carefully!!
Follow below steps to flash MIUI 7 ROM in Xiaomi Mobiles – Mi Flash Tool:
Extract MIUI 7 Fastboot ROM file which downloaded from the above-given link. Save this file in C drive and make sure,  folder path don't have any space or special characters.
Launch Mi flash tool which downloaded from the above given link.
 Switch on your device in Fastboot mode using Volume down + Power button.
Once phone screen shows Fastboot mode then connect data cable with Computer / Laptop.
Click on Refresh button in Mi flash tool.
Once your devices detect in your Mi flash tool. then Click on browse button and give folder path which you extract in C drive.
Choose an option from one of these Clean all, Save user data, Clean all and lock. Clean all, Save user data, Clean all and lock.  For more details about these options – Click here.
Now click on Flash button. After that, A progress bar shows in Mi flash tool.
Now you see a successful message Operation completed successfully.
The phone automatically restart after the flash.
Maybe your Xiaomi device takes time to first boot. Please wait don't do anything.
Congrats Now you are on MIUI 7.
After successfully following above steps you can enjoy MIUI 7 in your Xiaomi Redmi Note 3 or 3S Prime. Now you experience MIUI 7 services. here you surely miss MIUI 8 features like Second Space, Dual App, App hide, New Gallery, photo editor and much more features. Anyway, you are free to upgrade MIUI 8 in your devices. There is no need to unlock bootloader for flashing MIUI ROMs.
Enjoy Xiaomi services because
Always believe something wonderful is about to happen.