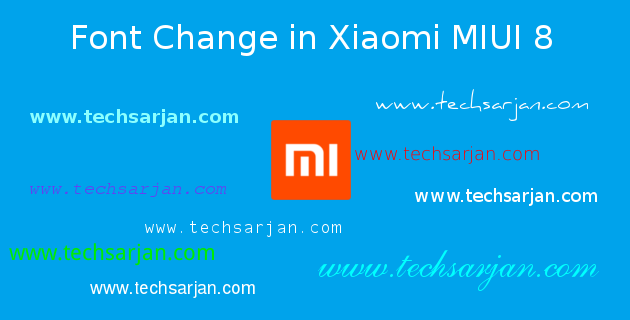 Hello MIUIers, Hope you doing well and enjoying MIUI 8 services. After MIUI 8 update you have many new features in your Xiaomi mobile. Mostly Second Space and dual app are awesome features which i personally love them. If you face any trouble in toggle interface then you can easily switch old toggle interface. Today we talk about Font style in MIUI 8. Font style changes option available in China Developer ROM but we don't receive in MIUI 8 Global Stable. However, you can easily change Font Style in your Xiaomi Mobile.
There is two way to change font style in your Xiaomi device. First one is required rooted device and second one don't need any root condition. So simply we can say, You can easily change a custom font in your Xiaomi mobile which is based on MIUI 8. You don't need a root condition.
This font change procedure work on all Xiaomi devices no matter which is Redmi 1S, Redmi 2 / Prime, Redmi 3S / Prime, Redmi note 3, Redmi note 4G, Mi 2, Mi 3, Mi 4, Mi 4i, Mi 5 etc.
In the whole process, you need two apps for custom font Style.
Click here to Download QuickShortcutMaker App
Click here to Download iFont App
Steps to change Font in Xiaomi Mobile without Root :
it's not too hard to change the font in MIUI 8. Just follow below simple steps to change the font in Xiaomi. we do all steps in three phase.
Follow below steps to change Font in Xiaomi Mobile :
Phase 1 :
Install QuickShortcutMaker App (link given in above para).
Phase 2 :
Install iFont App (link given in above para)
Launch iFont App
Click Download Button
Now A new THEME Button is Started Showing On theTop Right Corner of the screen.
Phase 3 :
Launch the Fonts App which appears in app menu after phase 1.
All set, Done.
After reboot, you experienced your favorite font style in your Xiaomi mobile. Above font change steps work in all Xiaomi phones including Redmi & Mi series which is based on MIUI 8.
You can also change font style via root. But this process too easy then others.
Enjoy Xiaomi services because:
Something wonderful is about to happen.
Image Credit : MIUI Forum
EDIT 1 :
Third-party sources are not supported 
error: download|auth rejected 402   Solution
This third party error solved easily just follow below steps.
Open http://designer.xiaomi.com/ and login with your Mi account.
Select Bounding Account Type As Individual Designers
Fill the form.
Upload your real pic.
When system asks for bank details skip it.
choose Registration (Please ensure username is consistent with company name)
Accept agreement and register.
All set.
wait for 24 hours, you receive confirmation mail when verification was done.