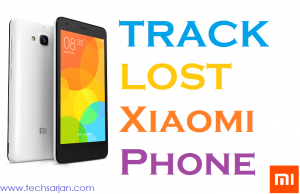 A mobile plays various roles in our life. We can't imagine our life without a phone. Day by day our daily life depend on our smartphone. So in this sequence, we also store our personal and official data on our phone. This may be your notes, excel files, your pictures, Contacts, Call logs and much more. A terrifying situation occurred when you lost your Xiaomi Redmi phone. You are in big trouble. Yes, we understand your crisis, But you should not be panic. Because Xiaomi MIUI OS gives you to various control options when you lost your phone, Like to Track your Redmi 2 Phone, Delete data remotely from your redmi 2 phone and also you can send an alarm command to your phone. So today we learned how to track Stolen redmi 2 phone through the help of internet.
Setting Required to track Xiaomi Redmi 2 / Prime Phones :
As a Xiaomi user, There is no need to find your phone through google services. Why ?  Because Xiaomi gives an easy way to track your phone. In all process, you need a Mi account.
Click here to know about Mi account & Creation Process
After creating Mi account follow below steps:
Open Mi account settings.
Tap on Mi cloud.
Scroll down, Turn on Find Device Option.
Yes, all set. Now you can easily track your Xiaomi Redmi 2 phone. A mandatory condition also required, "Your phone must be connected to the internet" . No matter phone connected with data or WiFi.
Tracking Procedure of  Xiaomi Redmi 2 / Prime :
If you do above settings in your phone then you can easily find your phone across the globe. Follow below steps to track your Xiaomi Redmi 2 phone.
Open your browser and type in address bar https://i.mi.com/ OR Click here
Sign in with Your Mi account, Which you create during Phone setup.
Click on Find Phone option.
Now you can see the current location of your phone.
Congrats, You track your Stolen Xiaomi Redmi 2 / Prime phone.  But we know as a Xiaomi users you want to something extra because Xiaomi always wants to entrust something extra to Xiaomi Fans. So here Xiaomi gives various facilities, Through the help of these you can Lock your Redmi phone, Erase all data in your phone, Send an Alarm command to your phone.
When you send an alarm command, Some charges are applicable by your network provider. After sending alarm command, Your redmi 2 phone Ringing with its full volume and the volume buttons also disabled so no one can reduce volume. This trick you can you use when your class friends hide your phone and made a facetious situation. Then you can find your phone without anyone help.
So in the above tutorial, you see its very easy task to find your Stolen Redmi phone. In the next tutorial we share how to find friends mobile location in Xiaomi phones. You know we always want to know "Where are you right now" . and he always says I am just coming no matter he still at his home.  So there is a need to Track friends / spouse for many reasons. So Tracking easy with Xiaomi Because
Something wonderful is about to happen.