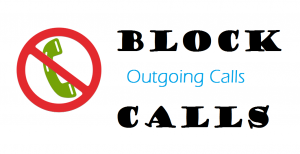 Mobile phone oh sorry !!! Your favorite smartphone, You love your phone till it does not create any disturbances in your personal life. Yes its very painful when your relations breaks because of a phone. Ok, leave it come on the topic, Today we share with you How to Block Outgoing calls in smartphone. No matter which phone you are using, All phones support outgoing block call feature. This outgoing call blocker function works with all smartphones brands. Like Xiaomi, Samsung, Lenovo, Huawei, Intex, Micromax etc etc. All Brands phone support call blocking.
Necessary things to do Before Starting outgoing call block :
No there is not many steps for following. But you should know about some basic things. Firstly I want to tell you that Outgoing call block somewhere related to your network provider. No, i am not talking about hiding caller id facility. It is the simple thing than this.  Follow below step for getting PIN 2 Number.
Call your network service provider and ask them for your default PIN2 code. and save this code. This code requires using call blocks. Also, ask for PUK2 code which is required in future in any emergency case.
How to Block outgoing calls in Android :
There are not any complicated steps to block calls because this feature inbuilt in your phone. We sharing Xiaomi phone's screenshot. which is based on MIUI 7/ MIUI 8. Steps may be wary because of other brands. Basically its cover all steps. So blocking outgoing calls step are given below:
Go to Settings ->> System apps -> Phone
Here you find Fixed Dialing  Numbers in other section
Here you see Fixed Dialing Number function is off.
Turn on this function , During on procedure system ask for the PIN2 number. Enter PIN2 number.
Now Go to FDN list which is visible on the same page. and enter your number which you want to allow call. Else all number are blocked. Only FDN list numbers  can be dialed by the phone.
Congrats, you blocked outgoing calls from your phone. Now no one can from your phone. You can also change PIN2 number, by providing old PIN number which is received by you from your network operator.
Note: Don't enter wrong PIN2 numbers, if you enter Wrong PIN2 number more than 3 times then you need to enter PUK2 number. And if you enter wrong PUK2  number  more than 10 times then your sim card blocked by the operator. Then no solution . You go for the new sim card. 
How to Disable outgoing call blocking : 



All procedure are same just turn off the Fixed Dialing  Numbers Function. and your phone working smoothly.
Above all screenshot are captured in Xiaomi mobile MIUI os. So this is not necessary to find Fixed Dialing  Numbers in the same location where we did. Its depend on your phone model. So find yourself Fixed dialing function. Finally, we block call without an outgoing call blocker app.  Enjoy blocking in your phones. And MIUI users, What can say you, You all knows
Something wonderful is about to happen.