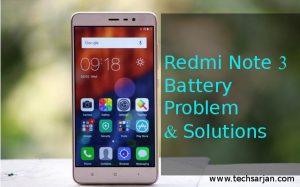 Redmi note 3, Awesome product from Xiaomi. As we all know Xiaomi known for their amazing devices with the illustrious budget.  Redmi Note 3 full fill all wishes of Mi fans. No matter if you want fingerprint sensor, IR Blaster for your TV & AC, flamboyant camera etc etc.  All come in one pack Means Redmi Note 3.
Redmi Note 3 comes with two variants. First, one comes with 2 GB RAM & 16 GB internal and the other one come with 3 GB RAM & 32 GB internal. Redmi Note 3 have Snapdragon 650 processor with 4050mAh powerful battery. You can experience metal body with amazing light weight feelings Because Redmi note 3 in much light the only 164g.  The fingerprint sensor gives an ultimate power in your hands. So you can easily say Redmi note 3 a good choice in  this stunning price range.
Some users face a not charging problem in Redmi note 3 in the brand new phone.  Some other complaint of Battery drain fast in Redmi note 3.  All problem which you read above they are minor problems, There is no need to go for the service center. You can easily solve these small problems with doing some cool kinds of stuff.
Battery Not Charging Problem Solution in Redmi Note 3 :
This problem normal happens with brand new Redmi Note 3 phones. When you open the box, And set up your Mi phone with basic settings. Now you realise that your phone charging in working. Don't worry its easily solved by some below tricks.
Use another Xiaomi charger for 2-3 times. After that, you see your own charger works.
Don't charge your Xiaomi Redmi note 3 till then his battery goes to 3%, Then charge your phone. If not charge then use the phone till the power off. After that charge your mi phone.
Charge your phone in switch off condition.
This battery not charge problem also occur if you do not charge your Xiaomi phone  for 20-25 days. After following of above ways your phone's battery definitely charged. If still not charging then you can go for Mi Service centre.
Fast Battery Drain Problem solution in Redmi Note 3 :
Redmi note 3 have 4050mAh Battery. And if you still complaining about Battery drain then you can do following steps for better results:
Check your GPS . Turn on only when you need.
Check All background Apps are off.
Turn off WIFI when you not use.
Frequently check you battery usage in Security App.
Follow low brightness when you don't use.
Don't use Vibration for Screen touch as well as the capacitive buttons.
Set preferred network 2G When you don't need the internet.
Install all updates provided by Xiaomi.
So here are many tricks, Through help of these trick you can easily optimize your battery power in your Redmi note 3 Phone. You can also install developer ROM for Updates. As you know They get updates fast because they use Developer ROM. If you are not friendly with rooting and flashing mobiles , Then please don't do it. There is no need to do it. Xiaomi gives all power to their normal users . You can easily customize everything in your MIUI. Now MIUI 8 Released. You can Download MIUI8 for Redmi note 3 From here.
Enjoy Xiaomi services because:
Something wonderful is about to happen.