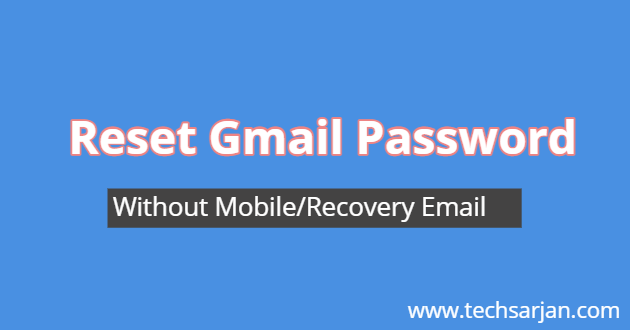 The act of communication is so advantageous and important in today's era, as it helps to communicate and to express our emotions. Conversations are not only confined to the oral method but also in written form, the early postal methods are not preferred in today's time as it consumes so much time and also has to be limited in terms of paper, etc. it's all over a non-preferential process with considerable drawbacks. Also to match with the scale of fast-growing world, a fast mode of communication is equally important, as we all are well known of the fact that the virtual activities are increasing so is the increase in virtual communication via Gmail.
If you are looking for a solution to recover Gmail password then we can help you. Through the help of our guide, we share a detailed step by step process to recover your Gmail password. Here You can follow this Gmail password recovery process on your Android mobile OR you can also use your laptop computer to follow Gmail Password recovery steps in 2021.
Gmail is a form of communication that can be performed at a professional level it also includes attachments of different types of google files, media, documents, etc. it is more often used as a convenient way of expressing via a secure and a verified Gmail account. It is absolutely free of cost, easy to use, approachable by everyone, and not only this it also gives a platform for better communication in form of video conference, google meet, voice calls. By using this form of google workspace one can connect with its co-workers. Due to the authenticity and privacy provided by this application, it becomes more suitable for business profiles.
It is one of the fastest and trustworthy communication applications offered by google which ensures the transfer of your files and media in the safest way possible. To ensure security one has to set up some full-proof locks similarly, the authenticity and seclusion of your conversations are assured via setting up a valid password that is confirmed by the user and is customized. The Gmail account and the password is primarily handled only by the user, using the id and password one can log in to their profile which contains all the important Gmail addresses, important documents, valuable files, meeting links, etc. but what if you anyhow lose your password, or forget it. Then do we have to lose all the important data? Certainly not, so here comes your rescue which will help retain and act as a  safeguard for all your data.
If while logging in you are unable to remember the password then follow the below-given steps which will help you to recover the password. The very first initiating step includes to click the forgot password then a window will open asking to enter the last password you inserted if you don't remember that password then click on the "try another way" link displayed below, then enter your phone number registered and synced with your account then one-time password will be sent to your registered mobile number which you have to fill, after filling you can recreate your password, hence you can use the new password.
While creating a Gmail account certain recovery questions like name your first school, name of your best friend, name of your birthplace are asked to preserve and take it as a sign of your privacy. If while recovering your password you don't have your android phone then you can proceed with answering the recovering questions also.
Gmail Password Recovery Without Mobile Verification:
If you lost your mobile OR you don't remember which mobile number you use during Gmail creation. Don't worry you can still recover/reset your Gmail passwords. Google also provide a way to reset your Gmail password without mobile number verification. Just follow the below steps to to reset your Gmail password.
"IN CASE OF NON AVAILABILITY OF PHONE GO TO THIS OPTION"
Certain things that one should make a note as precautious method are; never lend your private details like id and password to anonymous person, always remember to log out your account from the device, avoid logging in some other user's device, always try to make your password strong which includes numbers, strings, variables, capital constants and special character as guided by the google while setting up your password for google account, keep changing you passwords regularly to insure security, never leak your answers to the personal questions you set up.
If any how you still face problem in logging in then you can recover your password via the alternate method of recovery Gmail id which you had set at the time of creating new id and the last but not the least if your mobile has been lost or is not with you, then you can always contact the google customer help forum regarding your concerned issue.
You can also reset your Gmail password via your Recovery email. You can set up a recovery email in your account settings. So in the future, if you need to recover the password then you can verify your identity via a recovery email address.
At last at I aspire that this article helps you to recover your password in case required and procure your valuable data.