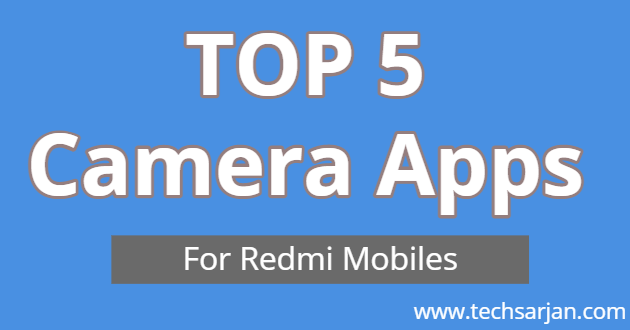 To reflect and share the sweetness of our moments and capture those memories we all use cameras, they project so much about your personality not only this now a day's the craze of photography is constantly increasing as the photos are not only restricted to get in forms and albums but also as social media post. The platform of social media allows sharing of content in form of pictures. From the influencers to bloggers, to celebrities, to the politicians, etc. everyone uses to spread information and share the moments with the help of photos and videos.
If you are looking for the best top mobile Camera Apps for your Xiaomi Redmi Mobile then we are here for you. Here we share a  list of camera Apps that gives an awesome performance on your Redmi mobile. Enjoy top premium camera apps for Redmi mobiles.
These apps work on all Redmi mobiles no matter which is Redmi Note 10, Redmi Note 10 Pro, Redmi Note 9 Pro, Redmi Note 9, Redmi Note 8, Redmi 9, Redmi 8, Redmi 7, Redmi 6, etc.
Un bounded to this celebrities and influencers often inspire mostly via virtual images and videos which tends to leave a great impact on one's mind, as the photos with a deep message, in form of attractive cover pages, photoshoot giving inspiration with their dressing sense, etc. revolves in the social media user's mind.
Due to the increase in the photography and video trend people are more into filters, editing, special effects, themes, different backgrounds, artistic effects such as blurring, pop art, canvas effect, HDR, placing of light, etc. to make the photos more chic and appealing.
As the pre-installed camera application is confined to a certain number of filters in our android phones, so to satisfy the demands and scale up with the trend people install the camera application for a wide variety of filters and other editing options. So here I am going to list certain apps to give a better experience of photography.
GOOGLE CAMERA – Camera App for Redmi Mobiles
this app is available with a rating of 3.2 out of 5 it is one of the topmost preferred camera app it comes with dual exposure controls to cover backlight photos, super-resolution zoom scale, top shot, long shots with long term shutter pressing. All these features when combined help's you to pick the perfect media by accelerating the camera efficiency.
A BETTER CAMERA – Camera App for Redmi Mobiles
this is a fully-featured, all-purpose camera with a rating of 3.9 out of 5 with HDR which includes bright colors and focuses on intricate details which makes it look like a professional camera shot, it has panorama for up to 360 degrees to 100 megapixels, multishot this feature enrolls group portrait, sequence shots or removal of unwanted objects, the night mode feature, video recording with pause offered with time-lapse, pre shots, timer, burst, expo-bracketing, focal length variation, ISO option, white-balance, RAW capture, and timestamp; submission of all these features results in the great picture and video quality.
CAMERA FV-5 – Camera App for Redmi Mobiles
this is a professional based application with a verified rating of 3.8 out of 5 with features like DSLR manual photography; the photographic parameters of this application are adjustable in terms of exposure, compensation, ISO, light metering mode, with full-fledged EV and bracketing, supports built-in intervalometer, brought up with elegance and JPEG format with 16-bit RAW in DNG format, possessing shutter speed of 1/18000, with EXIF and XMP sidecar metadata support system, provides with a customized storage location and the user interface is available in more than 30 languages.
CAMERA MX-PHOTO AND  VIDEO CAMERA – Camera App for Redmi Mobiles
-this application has been rated 4.2 out of 5 the specifications of this app is that it supports all types of ratios and resolutions, comes with auto-optimization and high-quality photos even in low light, you can switch the filters while time-lapse according to add the realistic effect or vintage effect, optional GPS  setting is also available to procure your current location with the estimate calculation of latitude and longitude; shows grid lines for better and precise composition, the inbuilt capacity of capturing the live shots, color flash, kaleidoscope camera effect can also be implemented.
DSLR CAMERA PRO – Camera App for Redmi Mobiles
-this is a financial-based subscription application with a rating of 3.3 out of 5 it is designed to mimic realistic intricate details, it is a reachable app that comes with so many ergonomic and powerful features like a two-state shutter button, movable viewfinder, live histogram, rotating, drive modes such as single, bursting etc.; golden ratio, matrix, center-weighted spot, auto face detection, etc. which makes it a complete package of extraordinary features.
Enjoy Camera Apps for Redmi mobiles.
So here were the top five most desired camera applications which will definitely result in scaling up your profile and content in a fantastic manner.