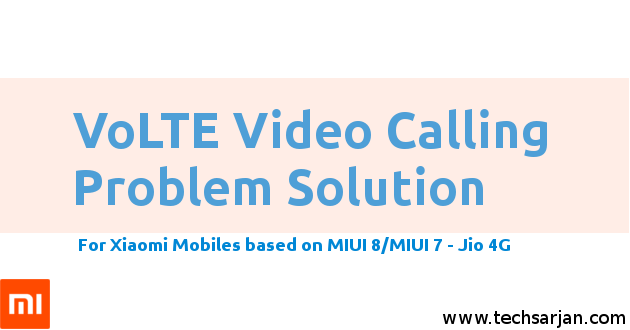 Hello MIUIers, hope you are doing well. Today we talk about VoLTE video calling feature performance on our beloved Xiaomi devices. As you know, Jio gives free data to enjoy internet services. Sorry, Now they take charges. they already launched their Data plans you can recharge according to your requirement. However, they are still providing cheap rates than other operators. Here we talk about how to make a Video Call with the help of VoLTE. In the VoLTE Video call you don't need any third party app. In short, like an audio call you make Video call through the help of the latest 4G network. This calling called VoLTE video call.
This VoLTE call supported by all latest Xiaomi phones no matter which is run on MIUI 7 or MIUI 8. Some devices do not support VoLTE so you can't make the video call on those devices. However, you can enjoy video calling with the help of Jio 4g Voice App. VoLTE supported by Redmi Note 3, Redmi Note 4, Redmi 4A, Redmi 3s, Redmi 3s Prime, Mi5, Mi 6 etc.
Generally, users say that they don't have video call option on default phonebook. They always complain, they unable to make VoLTE video call from their Redmi devices which are  Redmi Note 3 or else. Here we give a complete solution of VoLTE video call with step by step easy and quick guide. So don't take tension about VoLTE video call, You can easily connect with your friends with the help of VoLTE video call.
Things to do before making VoLTE Video Call:
If you want to make a successful VoLTE video call then you need to perform some basic steps. Please ensure you done all below things which we share here for a successful VoLTE video call.
Keep default calling and internet sim JiO 4G –   Make sure you set JIO sim as preferred sim for calling and the internet. Go to settings and choose Sim Cards & Mobile networks.
Keep VoLTE Enabled – Make sure you enabled VoLTE function in the settings. Go to settings and choose Sim Cards & Mobile networks. Now enable VoLTE function.
Preferred Network Selection – Make sure you set preferred network type Prefer LTE option. For this Go to settings. choose Sim Cards & Mobile networks. Now tap on Jio sim. Here you can set preferred network select option. Set to Prefer LTE option for Jio Sim.
Once you set all above these settings then your phone is ready for VoLTE calling. In the rare case may be JIo APN settings not configure by default on your Xiaomi phone. If APN settings corrupted and changed by you then please follow instructions to configure Jio APN settings for a successful VoLTE call.
Go to settings and choose  Sim Cards & Mobile networks option. here you tap on Jio sim and Now choose Access point names option. Now choose new APN option and fill below Jio APN settings.
Name : Jio
APN: jionet
Server: www.google.com
APN type: default,supl
Now save the settings.
Create one more new APN. Add below settings on new APN again
Name : Jio
APN: ims
APN type: ims
Save the APN settings. Now set Jio (jionet) APN for Jio sim. Now you see a VoLTE option appears on the taskbar. Congratulation now you can enjoy Jio VoLTE calling free of the cost with your friends.
Network goes when make a VoLTE video call Solution:
If your both sim or Jio sim network gone when you make a VoLTE call then you need to update your system. In the previous MIUI version, users face this problem and this bug already submitted on MIUI forum. In the latest MIUI version, this bug resolved now you can enjoy VoLTE video call without any issue.
What to do if default dialer not show a VoLTE option:
Everything is OK. But your phone default dialer does not show a video call option. this situation is terrible where we can't do anything because if the video call option appears then we do anything else what we do. So here the only option for us that we need to update latest miui version. Make sure your Redmi & Mi phone have latest MIUI version. It may be MIUI 8 or MIUI 8.2
If your phone is VoLTE supported then you can make a VoLTE call option thorugh the Jio4G voice app. So if you want to make VoLTE video cal through the help of Jio 4G voice app then follow below instructions.
Launch Jio 4G Voice App.
Go to settings option. here tap on settings option.
Here you find Enable Rich Call Service (RCS) option. Disable this opton.
All Set, done.
After following above steps you can easily make VoLTE video calls with the help of Jio 4G voice app. This Jio 4G voice app you can call through non VoLTE sets like Redmi 2, Redmi Note 4G, Mi4i etc.
Enjoy Xiaomi services because
Something wonderful is about to happen.