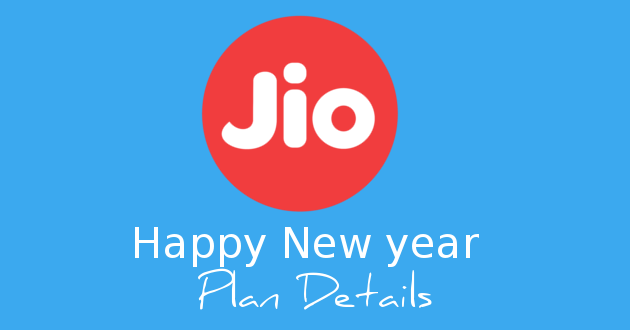 Hello MIUIers, hope you are doing well. Today Jio announce their new Happy New Year plan. After the announcement of this plan, Jio cover the more internet users. Maybe you already using Jio service under Jio Welcome offer.  Don't worry Jio also care their old customers. Old users also get same benefits as new users under the Happy New Year plan 2017.
In the New Year Plan, Jio gives free voice, free data till March 2017. now you are thinking how to upgrade your welcome offer in Happy new offer. Don't be panic. Jio is too smart. You don't do anything your old number automatically upgraded in New Year offer. So old users enjoy Happy New year offer. Tariff plans are same after March 2017.
What's new in Happy New Year plan :
Here we present some difference in old & new plans is respect to data usages and charges.
Jio Welcome offerJio
Happy New Year offer
Daily data limit – 4 GB
Rest 128kb
Daily data limit – 1 GB
Rest 128kb
Free usages till 31st  March 2017
Free usages till 31st  March 2017
Users enjoy total 7 Months Free usages
Users enjoy total 4 Months Free usages
Voice calls Free through VoLTE
Voice calls Free through VoLTE
Video call use data
Video call use data
Unlimited free data 02:00 AM to 05:00 AM
Unlimited free data 02:00 AM to 05:00 AM
So finally you can say old users still in benefit. They enjoy free services more than 7 months.  Here one thing which disappointed Jio fans is Data usages limit. New data usages  limit reduced to 1 GB. Now you can only use 1 GB 4G data on your mobile. After that speed goes to 128kb.
Overall is good. who care when things are done in free.  Now you can also port your existing number in Jio. The process of MNP is simple. You can follow same procedure which is followed by other operators like Airtel, Vodafone,Idea, Aircel etc. Just send a PORT" <10-digit mobile number> to 1900 after that you receive a port code. Visit nearest Jio center and give them your port code. They give you a new Jio sim card which comes with Happy new year offer.