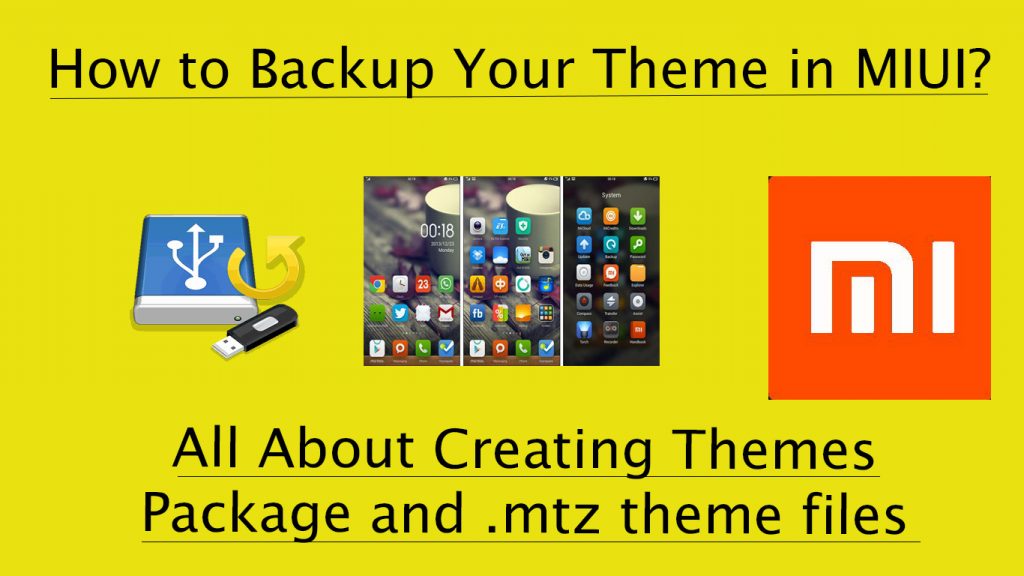 Hello MIUIers, in this post, I will be teaching you about backing up your theme and sharing it in MIUI. MIUI 8 offers a variety of themes available for download online via the Mi Theme Store. However, most of us have no idea that we can save the themes and then share them from our phones with our friends. So, here are the steps of doing so –
TYPE 1 – USING MI THEMES APP
Open the "Themes" App and click on the "Customize" Tab.
Press the "More" Button.
Select the "Backup Theme" Option.
Then, proceed with the Backup Process.
After the process is complete, your theme is automatically added to the Backup.
TYPE 2 –MANUAL MTZ FILE BACKUP
You can also create a special .mtz format file to store the theme and then you can save or share it .
For this, you will need any "Root Explorer" App.
Navigate to : root/data/system/theme .
All your themes are stored in this directory in the .mtz
If you want to store multiple .mtz files in one compressed .mtz file, follow these steps(For MIUI users only) –
Make a .zip compressed file containing all the desired files.
To convert it into a .mtz file, just make an .xml file named "description.xml" containing the following lines of code (replace Designer's and Author's Name with appropriate names —
Save that file in the .zip folder to convert it into a single .mtz file.
You can share these files even if they are paid themes.
TYPE 3  : FULL BACKUP ALL THEMES
If you wish to backup all your themes, then just copy the" MIUI" Folder from the root using a root explorer onto any external storage. That's it.
MIUI theme backup is helpful for you when you want to share your theme with other Mi users. when you complete your .MTZ backup in your MI phone then you can share this file over Bluetooth or WiFI. The next user easily install this theme on his phone. So now you can able to transfer your theme offline. there is no need of Internet to download Mi theme just share via above methods. All methods which shared in this article are worked in all Mi Xiaomi phones including Redmi 1s, Redmi 2, Redmi 2 Prime, Redmi 3s, Redmi 3s Prime, Redmi Note 4G, Redmi note 3, Mi 3, Mi 4, Mi 4i, Mi5, Mi 5plus, Mi Max, Mi Mix etc.  Backup process same on all MIUI versions are same no matter which is MIUI 6, MIUI 7 or MIUI 8.
That's it for this time guys. Stay tuned to us to get more such tips and tricks, and make sure to like the post and express your queries in the comments. Keep enjoying MIUI services because we –
Always Believe that something wonderful is about to happen.