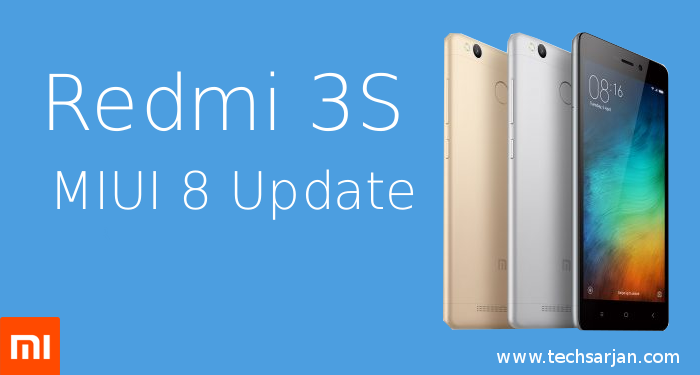 Hello MIUIers, Hope you enjoying Xiaomi services. Recently you received your favorite phone Redmi 3S Prime. An awesome budget phone with full of features. After Redmi Note 3, This phone is favorite of many peoples. All in one model  gives by our beloved Xiaomi. After the first use, you are happy with the performance. But now you are thinking to upgrade. Because no one wants to use an old software on a brand new mobile. So here we talk about MIUI official update of MIUI 8 which is based on Marshmallow. Your Redmi 3S Prime is fully comfortable for MIUI 8 updates.
MIUI 8 Free Download link for Xiaomi Redmi 3S Prime :
If you are new in the Xioami World Then i want to share something with you. Here we use 2 ROMs in our Xiaomi phones. First one is Developer ROM which receives update in every week. that is the best part of MIUI. The second one is Stable ROM which is prebuilt come in your Redmi 3S.
As I above-described, If you want to MIUI 8 Developer ROM then it is available and you can download from below link.
Click Here to Download MIUI 8 Global Developer ROM for Redmi 3S Prime
Version : 6.9.22 (MIUI8) Global Developer ROM
Click here to Download MIUI 8 Global Stable ROM for Redmi 3S Prime
Click here to Download MIUI 8 Fastboot ROM for Redmi 3S Prime
MIUI 8 China Stable for Redmi 3S / Prime
MIUI 8 China Developer for Redmi 3S / Prime
If you don't understand what is Global ROM,China ROM Recovery ROM Fastboot ROM, Mi Recovery then Please read below article for a complete guide on ROMs version.
MIUI ROM FAQs – Detailed guide
The above-given link is China Developer ROM which is based on MIUI 8. If you use this ROM then you must install play store manually.
We strongly recommend, if you are not friendly with rooting & flashing ROMs then please don't flash this ROM. Please wait for official OTA update in your Redmi 3S Prime.
Official MIUI 8 OTA Update for Redmi 3S Prime :
If you don't want to use MIUI 8 Developer ROM. then you can wait for official MIUI 8 OTA update. Which is based on Global Stable ROM. You can Receive OTA update of MIUI 8 in Second Week of August. So You can wait OR Flash a developer ROM which link is given above.
Update Procedure MIUI 8 in Redmi 3s Prime :
If you want to update with OTA. then you don't need to do anything. Once the OTA release then you get a notification in your Redmi 3S and just click on it. after that MIUI 8 Downloading in your Redmi 3S. and after download, it asks for restart click ok. Make sure you have 45%+ battery in order to update MIUI 8.
If you can't wait for OTA update then you can follow below steps for MIUI 8 :
Download MIUI 8 from the above-given link.
Store downloaded the zip file in your Phone Memory.
Go to Update App.Tap on three dots which is exists on Right side top
Tap on update package option.
Give the MIUI 8 ROM path.
Update process start.
All Set, Done.
Now your Redmi 3S Prime is on MIUI 8.
Enjoy Xiaomi services because:
Something wonderful is about to happen.