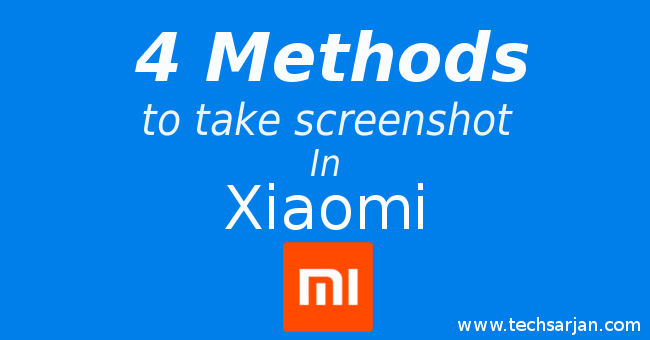 Hello MIUIers, hope you are doing well. A Screenshot is a basic requirement of any smartphone user. Today we discuss on Screenshot function of MIUI. In the Xiaomi world, you have many ways to take a screenshot in an easy way. Here many options available in your Xiaomi mobile for screenshots.
Why We need Screenshot function :
You already know why we need this grateful function in our mobile. Its requirement depends on person to person. Some users don't want to write their application id which they receive from a particular website then they take a screenshot and work finished. Some users want to share their referral code on social sites so instead of write they simply take a screenshot and finish their work smartly.
As above examples you see screenshot play an important role in our daily life. So we need it. And you know Xiaomi always better in customization options. So here we also have 4 ways to take a screenshot in our favorite Xiaomi device. All methods work on All Xiaomi Phones no matter which you are using like Redmi 1S, Redmi 2 /Prime, Redmi 3S / Prime, Redmi note 3, Note 4G, Mi 2, Mi 3, Mi 4, Mi 4i, Mi 5 etc.
Way 1 :  Volume Down + Menu Key Button
Simply Press

Volume down button + Menu key Button

you can also choose 

Volume down button + Power Button
Way 2 : Pull down Status Bar and Tap on the "Screenshot" Toggle
Here you can take a screenshot via using Screenshot toggle. Just Swipe down the status bar and tap on Screenshot toggle.
Way 3 : Through the help of Quick ball
Quick ball is a new feature which you receive in MIUI updates. First, enable Quick ball through Settings. In settings you find Quick ball options in Shortcut menu section.
After enabling the Quick ball, set screenshot toggle in options. and now you can take a screenshot through Quick ball.
Way 4 : Three Fingers Swipe Down to Screenshot
This feature is only available in MIUI 8. If you are on MIUI 8 ROM then you can use this feature.
Just swipe 3 fingers at any screen to activate screenshot capturing.
Here you get 4 methods to take the screenshot. But you missed one thing long screenshot.  As you know Xiamomi introduces Full page screenshot where you take pic which is available on scroll also.
How to use long screenshot feature in Xiaomi MIUI 8 :
It is so simple. follow below steps to take long screenshot in your Xiaomi Mobile
Go to the screen which you want to take a screenshot.
Press 

Volume down button + Power Button

Tap on the animation icon from top
Scroll down the screen which you want to take in Screenshot pic.
All Set, done.
All above methods work with all Xiaomi phones, So now there is no question for is long screenshot work with Redmi 2 or Rredmi 1s etc etc. This is MIUI feature so all Xiaomi devices can able to take a screenshot via above described methods.
Enjoy Xiaomi services because:
Something wonderful is about to happen.