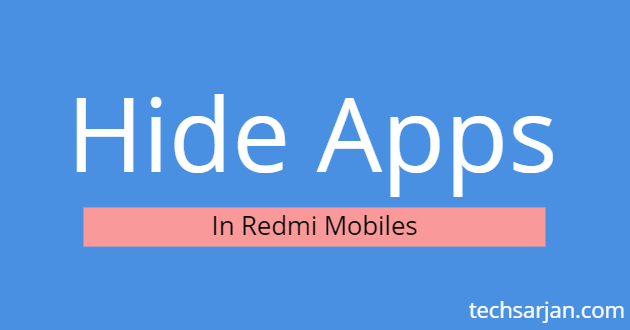 In today's modern world privacy has become one of the major demands by everyone to maintain their personal life, especially the youth arising now a days don't like interference in their life as they want to keep some facts and figures limited to themselves only, the reason behind keeping all the stuff private can be the judgemental society who wants to restrict people and want to mold their desires according to themselves, due to such present-day circumstances the intolerant attitude of the young generation, they have started to hide things.
As we know that a major role is covered by the Redmi mobiles nowadays work-related things, conversations, social media etc. so definitely the Xiaomi user's life somehow also depends on their Redmi mobiles, therefore all the Xiaomi user's desire to hide apps, photos, etc. that too without installing any kind of third-party apps as the Xiaomi user might feel uncomfortable with sharing their personal information without any official guarantee.
Xiaomi never fails in understanding the demands of the Redmi mobile users as proven by their it launches like Redmi note 10, Redmi note 9, Redmi 9, Redmi 8 which are the consecutive illustration by them that consists the latest specs with unaccountable privacy, the proper place to hide apps in Redmi mobile's; also the latest launched version of Redmi Note and Redmi note 9 have MIUI 12 installed that makes it even more superior in terms of hiding apps, etc.
Now let us give a clear vision to all the Redmi mobile users of how to hide apps. This feature is already in built in the Redmi mobile so one can hide apps without third-party apps.
Firstly open the settings of your Redmi mobile, then go to the App lock option, tap on it, as the name suggests the Redmi mobile user needs to set app lock by setting up a customized password, the user can lock the desired apps that one wants to keep private secondly, after completion you will see two option being displayed on your screen one is to lock apps and the other is hidden apps, select hidden apps there you will notice the list of apps already installed in your Redmi mobile, now select accordingly to make secret apps, vial following the step by step guide the Redmi mobile user can easily hide apps without third party apps.
This is the easiest and best way to hide apps without any damage or data loss. Hiding apps also have become important in today's time as people can easily misuse the information present in your phone, can access your accounts and cause any sort of illegal process with your identity, can place threatening calls, can steal your contact numbers, use your online bank details, etc. so, the above-listed method is the best way to hide apps and prevent from such things.
The user shall also keep certain things in mind while following the above given best way to hide apps that never share your passcode with anyone who is not trustworthy, do not keep your important apps unlocked, always keep changing your passcode to ensure better safety.
The Xiaomi users can also set fingerprint or face unlock the apps as the advanced technology in MIUI 12 covers such latest features which ensures high safety.
At last, I hope the above-listed information based on hiding apps in your mobile with the support of MIUI helps you in protecting your phones.