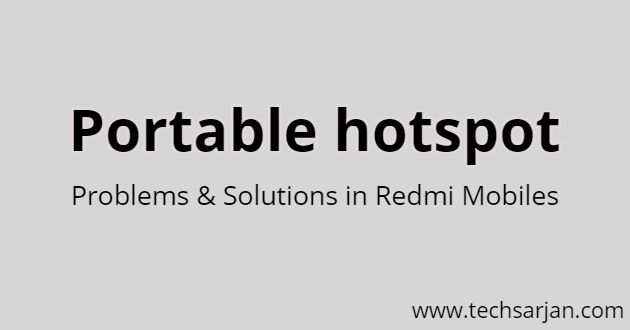 Hello MIUIers, hope you are doing well. Today we talk about WiFi Hotspot problems that you face in Xiaomi Redmi mobiles and also talk about working solution with step by step guide. Here we are going to cover Hotspot connection problem with laptops, multiple time disconnect, auto disconnect during internet usages on laptops, etc.
As we all know Xiaomi's MIUI 12 gives many features that are related to WiFi hotspot. Every Xiaomi Redmi mobile which is running on the latest MIUI 12 or older version provides the below facilities.
Create a WiFi hotspot and access mobile internet on other devices like another smartphone, laptop, smart TV, etc.
Can set a password to access WiFi hotspot.
Easily block any WiFi client.
Set a custom data limit on individual connected devices.
Can easily access data usages of all connected devices.
As we all know, We love MIUI because this gives much more features than stock android. Here you can use more advanced wifi hotspot features in MIUI 12.
WiFi Hotspot Problem & Solution – Redmi Mobiles Xiaomi:
Creating a WiFi Hotspot is too easy in Redmi mobiles. You can easily set up a working WiFi hotspot in your Redmi mobile.
For creating WiFi hotspot in Redmi mobile follow below steps:
Go to Settings
Open portable hotspot under Wireless & Networks settings
Enable portable hotspot function.
Now your hotspot is ready.
Search WiFi connections in your other device. and connect with this hotspot.
Problems with WiFi Hotspot in Xiaomi Redmi mobiles:
You are unable to connect with hotspot even with the correct password.
Your Redmi mobile hotspot not showing on other devices.
You are getting data limit exceeds error in notification section.
Hotspot working only for few minutes after that automatically disconnect.
Connected but unable to use the mobile internet.
Here we talk about Redmi mobile's wifi hotspot problems.  These solutions work in every Redmi mobile no matter it is Redmi 6, Redmi 7, Redmi 8, Redmi 9, Redmi Note 8, Redmi Note 9, Redmi Note 10, Mi 10i, Mi Max, etc.
If you are unable to connect with your Redmi hotspot even with the correct password then first need to check that your WiFi hotspot blocklist. Please check your hotspot blacklist. Might be your WiFi client is in the blacklist in the hotspot. The second reason for not connecting even after the correct password is Connection Limits. Might be your hotspot exceeds the max connections limit. Go to Settings -> portable hotspot -> Connected devices. Now you set the Limit of connected devices.
If your hotspot name not showing on other devices then might be your SSID is hidden. You need to enable SSID visibility. after that you can easily see your hotspot name on another device.
If you see a notification on your mobile which says data exceeds on connected devices that means the connected WiFi devices are consuming too much data. So your Redmi mobile stops their data service. You can manage data limits on connected WiFi s via portable hotspot settings.
Hotspot working only for few minutes after that automatically disconnect. Need Solution?
This problem generally occurred with laptops. Basically when you create a hotspot in your Redmi mobile and connect with your laptop. The laptop may be Lenovo, HP, Dell, etc. These laptops connected successfully with your hotspot. But just after a few minutes it will automatically disconnect. and you need to again reconnect but surprisingly it again disconnects after a few minutes. So here you need a perfectly working solution.
This error occurred due to several reasons like Antivirus in your Windows 10 system, and other wrong settings in your portable hotspot. For the solution just recreate your hotspot with a different name and different password. Now you see your hotspot perfectly working in your laptop/computer.
Here we can say, Portable hotspot is the best way to connect your laptop with your mobile Internet. This means if you want to access your Redmi mobile internet on your Windows 10 laptop then a portable hotspot is the best way. Easily create a hotspot in just a few steps and enjoy Mobile Internet on your laptop.