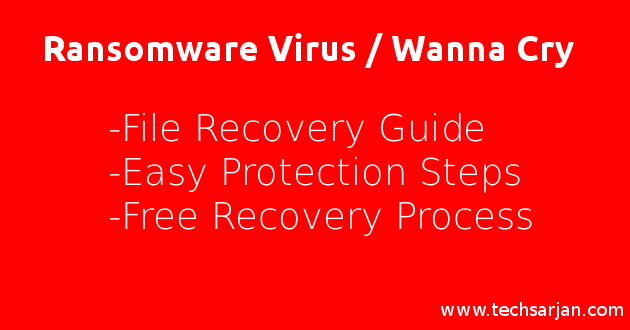 Hello windows users, at this time everyone talking about Ransomware virus, which infects more than 2 lacs computers in approx 150 countries. A Ransomware virus, you can say Wanna Cry virus, once he affects the system then you can't do anything. they demand money and there is no guaranty they give a decryption key for your files. So if you want to know more about Ransomware Virus and want to know about the recovery process. and want a complete guide,  how to recover from Ransomware virus attack without money means free to recover from Wanna cry virus attack. then here you get a completely free guide where we share easy steps to recover your encrypted files which are infected by Wanna cry virus.
What is Ransomware Virus & how it works?
This Ransomware virus generally attacks your files which are stored on your local hard disk(HDD). Once your system affected by this virus then your all hard disks drives are encrypted and locked. Now system screen informs you that your computer is infected by Ransomware virus (Wanna cry virus). We locked your files. Now if you want to access them then please pay through Paypal or any other method. In short, They demand money. Here we request you please don't pay them. Because there are fewer chances. What happens if you pay them but they don't give the decrypt key. So rather than paying to hacker take help from your system security manager. He will help you and you get your important files back with no risk.
Is there any version comes of Ransomware Virus?
Yes, Soon you hear a newer version of Wanna cry virus in the news. In the new version, your files is encrypted with latest algorithms which are impossible to recover as of now.
Ransomware virus, spread in local area network (LAN) easily. Suppose your one system affected by Ransomware Virus, and this system attaches with LAN then your all systems easily defects by the Ransomware virus. Now you see same payment page on your all connected PCs. In Short, Once the Wanna Cry virus comes in LAN environment then he covers all PCs. Wanna Cry normally targets Windows OS. Especially Windows XP.  If you are using Windows XP then please take care of it. Else may be soon you get a payment page on your screen. In this Article, We share how to prevent Ransomware Virus from the systems.
Is Ransomware virus also affect Linux os (Ubuntu/Linux Mint)?
No, as of now there is no news, which confirms that Linux PCs affected by this Wanna cry Virus. But this virus easily affects Android mobiles. If you are using Android mobile then take care of it. Maybe you are the next victim.
How to Remove Ransomware Virus:
If your system affected by this dangers virus Ransomware, then keep calm and think how many files is important in your system. Is these files size less than 16GB then you need to boot from Linux. Once you boot from Linux. Choose Live mode option in Linux boot. You can use any Linux Distro like Ubuntu, Linux Mint, Kali Linux etc. Once the system run with live mode then open your HDD partitions and copy all your important data.
If you have more than 16GB important data than you need to start your system in safe mode. Once you go in safe mode then first copy your important files in external HDD. Then perform some action like if you don't have antivirus then please install Antivirus in your system.
Remove Ransomware Virus Free:
If you want to remove Ransomware Virus free of cost then you need to perform some steps on your system. Once you start your affected system in safe mode. Open Task Manager through the help of CTRL + SHIFT + ESC and go to the processes tab. Now deeply see each and every task. The task which suspects name or activity then ends that task. and right click on that task and go to file location and scan that files through the help of any online scanner. If the result shows that files have a virus then delete that folders from the system. Also, check system host file. For host file open run prompt through the help of Window key + R. Once run prompt open enter below line code.
notepad %windir%/system32/Drivers/etc/hosts
After pressing Enter, You see a file open in notepad. Here if you see a bunch if IPs in the bottom of the file along with localhost. then please remove that IPs. after remove that IPs save this file.
You can do one more thing through msconfig. Open run prompt and type msconfig and press enter. Now you go to Startup section and uncheck all programs which have Unknown" as Manufacturer.
You know Virus is also a software, So definitely Ransomware (Wanna Cry) virus have his entries in Registry editor.  Open Run Prompt and type regedit and here search for Ransomware. and delete all things which is related to Ransomware.
%AppData%
%LocalAppData%
%ProgramData%
%WinDir%
%Temp%
Note: Make sure you only delete Ransomware entries. If you delete any other file then your system is corrupt. 
Remove Ransomware Virus – Paid:
If you are thinking to remove Ransomware Virus without any long procedural then you need to install any good antivirus software in your system and scan your system. Make sure your antivirus definition is updated. You can also help any data recovery software to recover your infected files which are encrypted by Ransomware Virus.
How to Protect Computer from Ransomware Virus:
This is not a hard task to prevent self from virus attacks. You just need an updated antivirus that's it. and also not open any unauthorized email links on your browser. don't download any file which comes from unknown sources. Always install trusted software on your system. Always use updated version of operating system. We highly recommended to you please update your windows version if you are using old windows like Windows XP, Windows 7, Windows 8 then please go with Windows 10 which is more secure than others. Please don't download files from the torrent.
Microsoft also releases a patch for their windows users to protect from Ransomware Virus. Just download these patch from here and install these patch in your system.
Download Patch for Windows Vista – Ransomware Virus
Download Patch for Windows XP – Ransomware Virus
Download Patch for Windows 7 – Ransomware Virus
Download Patch for Windows 8 – Ransomware Virus
 How to Protect Android Mobile from Ransomware Virus:
If you are using Android Mobile no matter which is Sony, Samsung, Lenovo, Moto G, Xiaomi, Meizu, Coolpad etc. each and every mobile which runs on Android platform can easily affect via Ransomware (Wanna cry) virus. If you want to protect from this virus then you need to disable unknown sources third-party app installation. Don't click on spam ads. Don't install any app which says your mobile is infected please install our app to remove the virus. Don't install such type apps on your mobile. Always use antivirus on your Android mobile. Don't give root permissions to any other unknown apps. Don't root your mobile.
How to now I am affected with Ransomware Virus:
If your system works too slow and hanging then possibly you think that you are affected with the latest Ransomware virus. But wait you don't affect with Ransomware Virus. Same way if you see shortcut virus on your system then don't afraid this is not a symbol of Ransomware virus. Just use a good antivirus you can easily solve these above problems. If you see a message on your screen which asks for money then now you surely affected with Ransomware Virus. Perform above steps which we share in this Article.