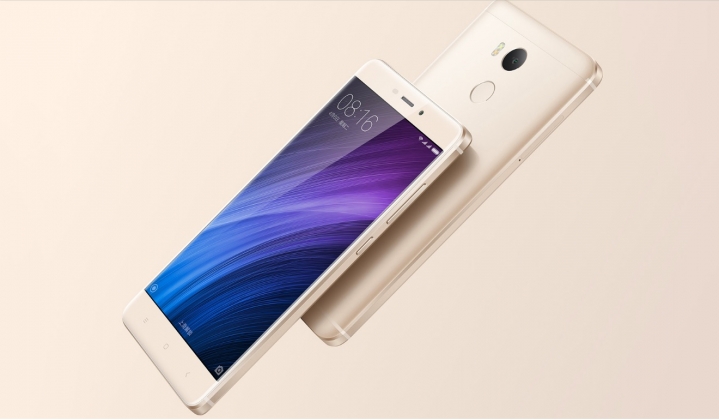 Hello MIUIers, hope you are doing well. You all know about Redmi series. Where we enjoy flagship services in less budget. In this sequence, Xiaomi introduces Redmi 4 which comes with full metal unibody design. Redmi 4 comes in two editions, Standard & Pro Editions. In Standard edition users get 2GB RAM and 16 GB internal with Octa-Core Snapdragon 430 SoC and Pro editions have 3GB  RAM, 32 GB internal and comes with powerful Octa-Core Snapdragon 625 SoC processor.
Both phones comes with inbuilt MIUI 8 operating system which is based on Android Marshmallow. Redmi 4 comes with 2.5D curved glass display which is more attractive then other Redmi phones. Other features like OTG support, IR blaster, sensor, Dual sims (hybrid sim slot), camera. Redmi 4 have 4100mAh battery which is enough for 2-3 days. Redmi 4 have a fast fingerprint sensor which is useful to unlock your device or unlock a particular app.
 Xiaomi Redmi 4 Specification :
5 inches full metal unibody, 2.5 D curved glass
Powerful octa core Snapdragon 625/430
13 MP PDAF camera
Powerful 4100 mAh battery
VoLTE support for Reliance Jio users
Expandable storage up to 128GB
Available in Gold, Grey and Silver
Redmi 4 Standard Edition: 2+16GB, 720P, Snapdragon 430
Redmi 4 Pro Edition: 3+32GB, 1080P, Snapdragon 625
Fingerprint scanner
Price of Xiaomi Redmi 4 in India :
Redmi series always comes in affordable price range. So don't worry. Xiaomi always give the best in price.
RMB 699 (16GB)  Approx Rs 6900/-
RMB 899 (32GB)  Approx Rs 9000/-
Xiaomi Redmi 4 Launch Date in India :
Xiaomi not say anything about India launch. But soon they launch this device in India because this is a mid range device and Xiaomi thinks only mid range sets works in India. So chances are high  to launch in India. Soon you get a news about Launch via Hugo.
FAQ Redmi Note 4 :
Q. Is Redmi 4 support dual sim ?
Ans. Yes, But it has Hybrid slot where you can use one SIM and SIM or SD card.
Q. Is OTG support available in Redmi 4 ?
Ans. Yes
Q. Is Redmi 4 have VoLTE support ?
Ans. Yes, Redmi 4 support VoLTE service.
Q. Is Redmi 4 have fingerprint sensor?
Ans. Yes, it has on Back side.
Q. Where can I buy Redmi 4 ?
Ans. It's not available in India. you can buy from international sites.
Q. Is Redmi  4 available on Amazon ?
Ans. No,
Q. Can I buy Redmi Note 4 offline ?
Ans. No.
Gallery Xiaomi Redmi 4 :